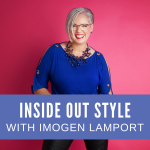 In This Episode
0.08 I have put on a lot of weight and my shape has changed dramatically. I could always highlight my waist before. Now I feel like a blob and need to wear loose tunics etc. It depresses me and I'm aimless just now while I am desperately trying to regain my healthy body.
2.19 I have very visible skin rash (a post COVID symptom) around the eyes and on the cheeks and am supposed not to cover it with make-up to let it "rest". My colour palette is enigmatic and I am 1 colour plus neutral when my skin is normal. How shall I think:
1. Shall I try to dress very neutrally, so as to "fit in with the wallpaper" until it is over?
2. Shall I use some stronger colours, so, people do not to see my face but my clothes first?
3. Or shall I stay with my muted colours but to bring in one extra colour to "fit the rash"?