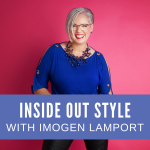 In This Episode
0.07 How to redirect focus away from the areas I want to camouflage? I use a statement necklace frequently, but what are some other options?
1.51 How do you put colours together – I'm high contrast spring (Zesty) but hear colours should be the same value so how do I create contrast?
5.10 How to combine part time working in business with switching to being a mum in the playground without changing clothes?
How to be a Stylish Magician
Creating Contrast
Getting Your Head Around Value and Contrast – the Celebrity Version
The Value of Value Contrast and Using it to Create Stunning Outfits
Practical and Business Wear for Stylish Mum
If You'd Like to Define Your Style and Discover Your Colours
If you're sick of wasting money on clothes that don't work and you know there is a better way, then join my 7 Steps to Style program and get the right information for you and your style.
Subscribe to my Podcast
You can now get these videos as podcasts subscribe and never miss an episode
Send me Your Questions
Please email me your questions to be included in my Q&A Lucky Dip!