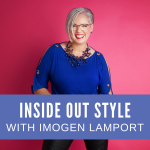 In This Episode
0.09 My challenge is that I want to keep up with style trends and apply them for me in an age-appropriate way for my lifestyle (I"m 60 and work in an office setting). But I really don't have the time to read every fashion blog, follow the influencers, check Instagram, etc. etc. I would just like some curated suggestions every season to help me stay on-trend.
3.21 I wear dark bottoms and bright tops but feel I'm stuck in a rut with my dark bottoms plus they cut me in half and I have a tummy I don't want to draw more attention to. How do I branch out without looking too matchy matchy or calling attention to my Plus size body?
6.03 How to feminise my classic style and even make it a bit sexy – help!