Have you ever said to yourself:
"I won't wear a scarf/statement necklace/animal print because I might wear it wrong and will look foolish"
"I can't wear a hat/waistcoat/dress/skirt/pants/cardigan/jacket because I'd feel stupid"
Or something along these lines?
Why is it that the potential for being wrong or feeling foolish stops us from trying something new or different in our outfits?
Have you ever thought that by letting this 'fear' of being wrong is not only hindering your ability to improve your style, it's also most likely obstructing your personal growth?
If you don't take the chance to be wrong or to make a mistake, you are not allowing yourself to learn.
This is the topic of Jill Chivers of Shop Your Wardrobe and my podcast episode.
You Learn and Improve from Trying Something
I think about my kids – from babies learning to walk, they fell over many times. But they got back up and kept trying and now my daughter does amazing tumble turns, flips and layouts in gymnastics (and I can tell you she's fallen anddone all sorts of "wrong" whilst learning these skills too).
Have you learned something from making a mistake in your life? Whether it was a maths problem at school or a poorly constructed sentence in an essay, we learn from trying and it takes courage to try.
And as I've mentioned before:
To be human is to be imperfect
and
Perfection is the enemy of action (and growth)
Worrying about putting on the wrong accessory (so wear none instead), or an element of your outfit not being quite right and that you'll end up publicly humiliated is something many of us do.Yet, how often have you broken down and pointed and laughed at someone for their outfit that wasn't quite perfect? Can't remember ever doing that? Well I'm not surprised!
Just a Little Self-Obsessed
We are much more obsessed with ourselves than with others.
Do you remember what everyone was wearing at the last 'event' you went to?
Could you tell me the eye colours of everyone in your work team?
So many things that we notice in ourselves are not seen by others.
So why would your slightly imperfect outfit choices be any different?
I know for myself since I've been taking outfit photos – I like some more than others, I think some are more successful than others and I know that none are perfect and I'm OK with that. But when I first started to share my own style, I discovered I had to dig deep and find the courage to do it as I was scared of being publicly humiliated (and the thought of it still doesn't thrill me – strangely enough).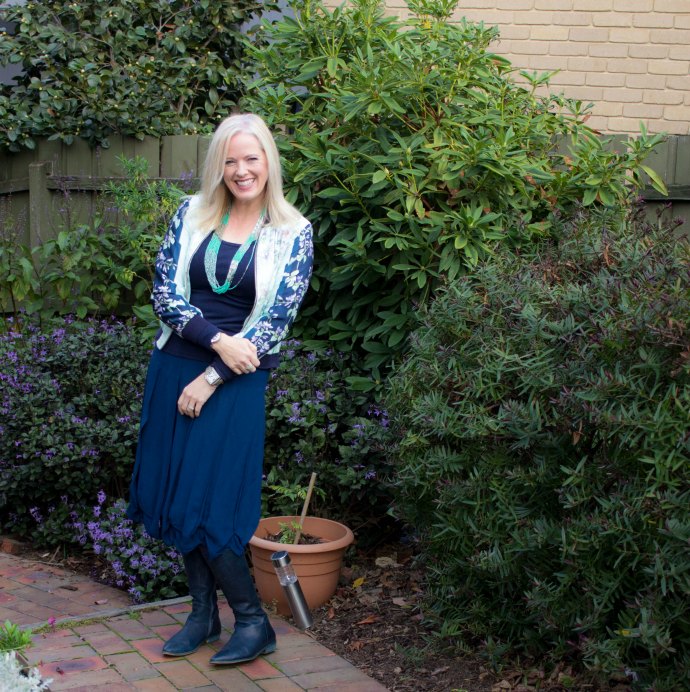 Years ago I'd have never bought a skirt constructed like this one (above) as I would have felt it was too "out there" and I'd be judged – and now it's something I know I'm attracted to and it brings me joy. But if I'd never experimented, I would never have discovered this about my style.
I also challenge myself to put outfits together differently as much as possible – I don't purchase many new garments (just one here and there), so I spend a lot of time reworking what I own into different outfits to keep my style interesting and to stretch my style muscle. Sometimes the outifts work well, other times they don't, but so far, people don't laugh as they pass me in the street!
Emotional Protectionism
We want to stop ourselves from potentially feeling pain – and so frequently we won't step out of our style comfort zones.
This is why it takes courage to be wrong.
By not trying something new or different from your "standard" (which is the whole point of my Evolve Your Style 31 day challenge) you'll never discover if you actually enjoy wearing something other than what you already know. And you are stopping people from giving you compliments – yes you are! What I've discovered from my Evolve Your Style participants – is that taking the challenge brings them more compliments than they've had in a long time.
Many of us worrying that the potential for drawing unfavourable attention means that we may also avoid wearing clothes we do love that might also draw positive attention if we're just brave enough to go out in public in them.
as Jill says:
Life is too short to wear boring clothes
Not setting yourself up for fear of being ridiculed means that you're also not setting yourself up for success either.
It's time to think about why you are feeling this way?
How do you experiment in a way that is safe for you?
One Day at a Time
This is why I recommend one small thing to change in an outfit a day (rather than doing a whole hog approach).
It can feel physicallyor mentally uncomfortable to try wearing something different or new. But it's amazing how quickly (and it's less than a whole month), just trying something new each day starts feeling more natural and easy and gives you more courage to try even more.
Give yourself a chance to assess a small change in your outfit or a new element you're trying. This way you know if something is or isn't working more easily rather than changing everything and then feeling completely wrong and so throwing the whole lot away as you have no idea of what it is that isn't working for you.
Think of this as taking baby steps.
Being Courageous is Great – But Do it In Baby Steps
I didn't start wearing statement necklaces in one day and Jill didn't start wearing head to toe leopard print in one day – she started with a small chiffon scarf and I started with a pretty small and refined slightly larger scale necklace.
What are you gaining by having courage?
By having the courage to try and potentially fail, you are learning and growing. You may even find something that really lights you up when it comes to your style – it's something you have to find out for yourself. That's when clothing and getting dressed becomes a personalised exercise in a wonderful and life-changing way.
There is a world of stylish possibilities waiting for you when you claim your right to experiment and try something different or new in your outfits.
Want more inspiration? Read my Stylish Thoughts interviews – there are women of all ages countries and styles sharing their photos and take on style. You won't love all of them, but you may be inspired as you appreciate their unique style as a representation of who they are. Appreciating others efforts and realising that you're not laughing at them, so why would others laugh at you can help you get you out of your own head.
Take the Evolve Your Style 31-day challenge – this is so useful if you're stuck in a style rut or a little scared of feeling foolish.
Learn about your style essence – why you approach style in the way that you do – find out more over at 16 Style Types.
Discover what goes into your own style – what does and doesn't work for your body, your face, your features, your personality and your lifestyle with my 7 Steps to Style program.
Keep learning and growing by taking part in an extension program full of monthly activities to help you discover and put into practise style and colour theories.
Tell Us About Your Courageous Steps
What courageous steps have you taken in your own style journey? Please share them with us here!