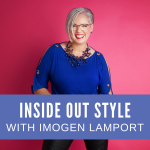 In This Episode
0.07 Let's talk about handbags! My hair going white has thrown me a bit, not a fan of white handbags unless it's high summer. Otherwise, I'm soft and warm coloring. Can you show us some handbags of yours?
2.55 How to stay warm without adding bulky layers that just make me look bigger?
5.19 What is rayon? How can I choose good vs bad rayon?
How to Choose your Handbag
6 Top Tips for Choosing a Handbag That's Both Practical and Beautiful
How to Dress during Hot Climate
3 Easy Ways to Add Interest to Your Summer Outfits When It's Too Hot to Add Layers
What to Wear at Work in a Hot and Humid Conservative Environment
How to Choose the Right Fabrics
How You Can Use Your Hair Texture to Determine the Fabrics You Choose
If You'd Like to Define Your Style and Discover Your Colours
If you're sick of wasting money on clothes that don't work and you know there is a better way, then join my 7 Steps to Style program and get the right information for you and your style.
Subscribe to my Podcast
You can now get these videos as podcasts subscribe and never miss an episode
Send me Your Questions
Please email me your questions to be included in my Q&A Lucky Dip!