Length of Handbag Strap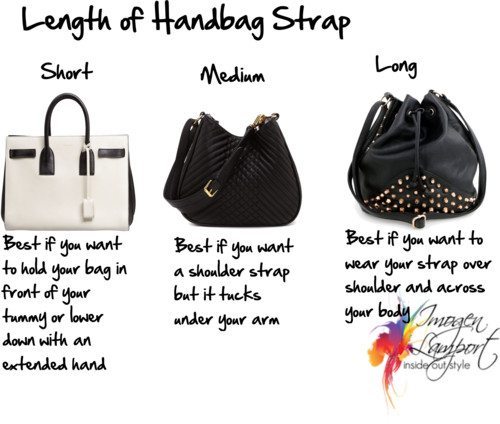 Strap length will determine how the bag is carried and where the emphasis is placed on your body.
If you have a larger tummy you may like to hold a bag in front – thus a short strap is ideal as you can hook it over your arm and wear it in the crook of your elbow.
If you prefer to wear a bag over your shoulder, think about how long the strap is. If it's long and the bag sits beside your hips, it will make your hips look wider.
If the strap is shorter and you wear it over your shoulder, you can tuck it under your arm and it won't add bulk to your hips.
If you prefer to go hands free, wearing it across your body, with the bag at the front, side or behind you will change the way you look. The bag at the front will add a little to your thigh but not too much. The bag at the side will add width to your hips. The bag at the back will add volume to your butt.
A cross body strap will also emphasise your bust as it cuts in-between your breasts.
So when considering the length of the strap, think about your body shape, what you are happy to highlight, where you'd rather not add any extra volume, and go from there in deciding on strap length.
Which style to choose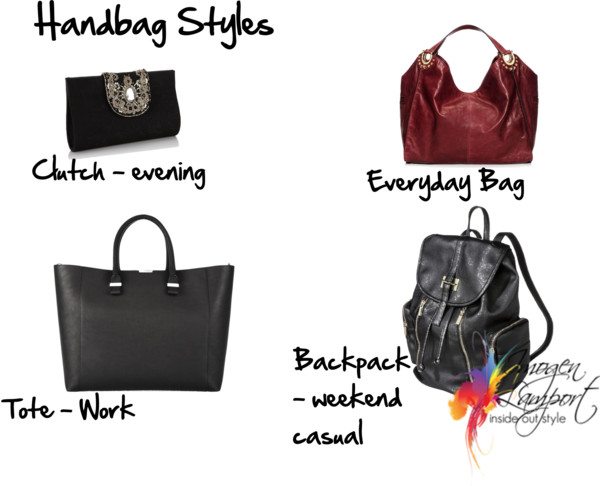 Look for a bag that is made for the purpose, for the occasion and activity you are undertaking.
A work tote is best left at home when going out in the evening, replace it with a clutch.
A backpack is fine for jeans and a t-shirt on the weekend, but doesn't suit a trip to the office.
An everyday bag will have some structure, but also some softness so it's easy to use and carry to many activities.
What about personality style?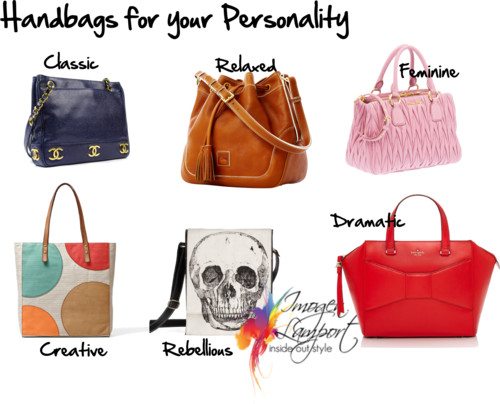 Personality is really important to consider when choosing a bag. Your bag should be an extension of who you are. As you carry it day after day, it's wise to find a bag that you really love and expresses something about who you are. Like all our garments and accessories, who we are will make us appreciate different details and colours.
Do you have a large handbag collection? Do you change bags regularly, or do you tend to have one (or two) bags that you use all the time?