I have a business casual workplace, but do a lot of travel, and have many formal meetings in countries like the US and Europe. So I have many shirts, blouses and Jersey tops, and wear them mainly with light trousers suitable for the warm climate in which I work, and also for travel and business meetings. And I have quality lined suits and jackets for more formal meetings and visits, and for business travel to the US or Europe for meetings. And great shoes. And handbags.
My question for you is this… how do I, as an almost plus size (size 14) hourglass figure, who likes to look reasonably tailored and stylishly understated, dress appropriately for formal business meetings in hot tropical and equatorial countries without either looking too casual or too overdressed?
Some countries, especially Muslim countries, have very professional requirements for men's and women's business we clothing, which throws me into a mild panic.
Humidity is a style-killer. Suits won't work (too hot) and I dread the idea of cotton or linen in humidity… because of the risk of looking crushed and unprofessional.
In some Muslim countries, skirts are preferred, and shorter skirts are required to be worn with pantyhose… not something I think I could pull off without turning into a perspiring mess. I don't think Maxi skirts are professional enough in my line of work… are MIDI skirts the answer? And how to wear them and look streamlined when I am curved? Do I need to wear pantyhose with them?
And shirts? Are good quality jersey wrap tops professional enough? They travel and wear well in hot weather, but are they appropriate for formal business?
Formal suit jackets would be too hot….. any ideas?
Its almost like I need to rethink the whole package… travelling to cooler climes is easy compared with the thought of travel now to much hotter humid countries with quite formal requirements…..
Any ideas gratefully accepted!!!!
Aneli
I'm no expert on working in these environments and their dress code requirements, but from experience of hot environments and a little research on what is acceptable here are my thoughts.
What to Wear to Work in a Hot and Conservative Environment

Skirts that cover the knees (midi)
Tops that cover the shoulders, upper arms and don't show cleavage
Trousers
Suits or suit style clothing
Work appropriate midi-length dresses
Unlined lightweight jackets
3/4 sleeve length jackets
Closed toe shoes
Midi skirts are an appropriate length for this environment, but are rather leg shortening – so wear with a stacked heel or wedge (closed toe) or a nude flat.
And as far as hosiery goes – that would be up to the actual dress code of the people you're dealing with. If they wear hosiery you should too. If they don't you don't need to either. You may find trousers rather than skirts are easier to wear if hosiery is the norm and you're not keen on wearing tights.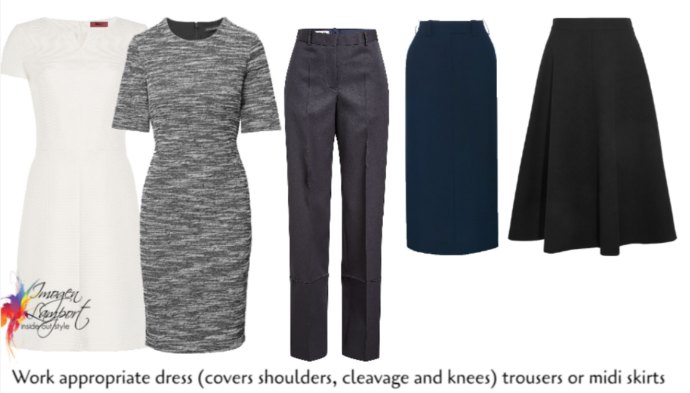 Work appropriate dresses are another great option – no need for a jacket or an extra layer, just think woven fabric and covering cleavage, shoulders and upper arms and knees. This way it's only one layer to wear so will be cooler overall.
Many times, in those equatorial environments, once inside the office, the air conditioning is pumped up so high that you need your jacket to stop from freezing! You just may want to carry it until you reach the office lobby.
When looking for tops, you either will want to tuck if it's loose or have it hemmed to a flattering length. Wrap tops work as long as they are not too form fitting or cleavage exposing (a no-no in these environments). A collar always makes a top more professional, so if you don't want to wear a jacket, think about a blouse with a collar instead.
Fabric Choices for Hot and Humid Environments
Think about fabrics that breathe – natural fibres are best.
Bamboo is a very cool fabric
Linen or linen mixes (often they crush much less)
Cotton mixes (too for less crush)
Viscose
Silk
Cool wool
What to Avoid
Too tightor form-fitting clothing
Anything that exposes the knees
Sleeveless shirts and tops
Low-cut tops
As with any dress code – observe what the locals wear and then see how you can adapt their requirements for your shape and style to remain appropriate whilst still feeling comfortable in your outfit.
More Tips on Nailing that Business Dress Code
What to Wear When You Work in a Corporate Environment But Prefer a Relaxed Dressing Style