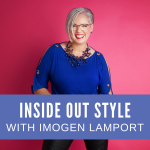 In This Episode
0.11 How do you wear medium value colours when you have high value contrast and dark ideal value?
2.12 How do I look more attractive and stylish and less frumpy?
6.36 How to add the third piece/layer with style?
Ways to Wear Medium Colours for Dark Ideal Value
Value and Contrast with Darker Skin Tones – the Celebrity Version
Stylish Outfit Ideas
How to Take the Extra Step to Complete and Upgrade Your Outfits
How to Create a Stylish Outfit? What Are Your Criteria that Makes it Great?
Layering with Style
What are Mental and Emotional Comfort with Regards to Personal Style?
If You'd Like to Define Your Style and Discover Your Colours
If you're sick of wasting money on clothes that don't work and you know there is a better way, then join my 7 Steps to Style program and get the right information for you and your style.
Subscribe to my Podcast
You can now get these videos as podcasts subscribe and never miss an episode
Send me Your Questions
Please email me your questions to be included in my Q&A Lucky Dip!