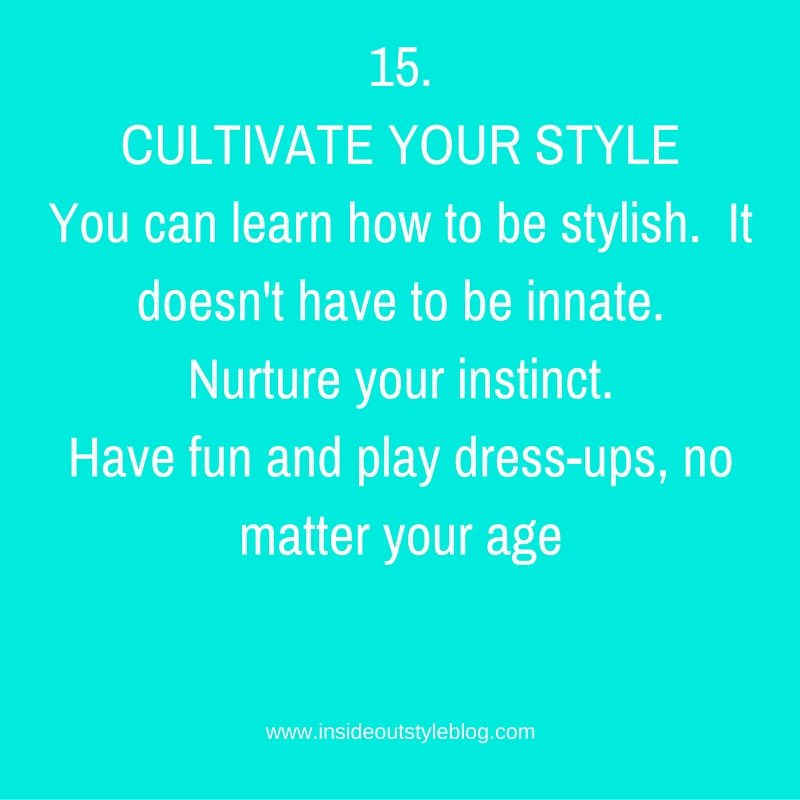 I have read (and heard) some people say that style is something that is innate. You either have it or you don't. And the people who say this tend to be people who are naturally stylish and have an innate sense of style and aesthetics. I believe that because they haven't had to work at becoming stylish or developing their styles, they think that is must be something you are born with.
But I disagree.
I believe you can cultivate your style.
You can learn how to be stylish in a way that works for you and expresses your inner wonderful woman on the outside through the tools of clothing and accessories – as your style.
As with any skill that you learn, you need to practice it. Like learning to ride a bike, or play an instrument or even cook a decent meal. Practice really will help to build those neural pathways in your brain and hone your abilities.
Style is no different. It's not a secret that can't be learned.
There is a science to style and I'm here to demystify it for you.
I've spent years (over a dozen years now) learning the secrets of style. Then taking the science and turning it into something you can replicate. That's why I started writing Inside Out style back in 2008 as I knew that so many women struggle with their style (I can tell you that I was one of them before I learned what I know today).
It's completely possible to revamp your style and learn all the insider tips and tricks – the science and the art of style.
Watch This
Take Action
Get into your wardrobe and play dress ups. Take a hero item and see how many outfits you can create using it.
Dress from the shoes up (if you have a fun coloured pair of shoes).
Dress from anaccessory – take a statement necklace and create outfits around this.
Photograph your outfits (so you don't forget and can refer back to them).
Take not of what is and isn't working. It may be scale, volume or proportion issues that you want to focus on.
You may discover that an item needs an alteration to make it work better for you (and remember needing alterations is not a sign of failure or that anything is wrong with your body).
Go into stores and play dress ups. Try on outfits you'd never even consider normally, just for the experience.
When you're trying on outfits in the stores you wouldn't normally, think about what words spring to mind – what kind of woman would wear this outfit? What are her personality traits? What does the outfit say to you?
Take your style recipe shopping (do this at a different time to the first in-store exercise) and then walk around stores looking for garments that speak to your recipe and then try them on.
Go into stores you'd normally avoid. This is a process of exploration and growing. This is not about shopping or buying. In fact you may want to leave your credit card at home so you can't purchase. If you end up finding an amazing outfit, I'm sure the store will hold it for you (this also gives you the opportunity for a good "power pause" as Jill Chivers calls it, to ensure that you love it as much as you think a few hours or a day later).
Further Reading
Take the body shape calculator quiz and download your free body shape bible (my professional opinion on your body shape is available in 7 Steps to Style)
Discover more about colouring (and don't forget if you want my professional opinion on what colours suit you best then my 7 Steps to Style program is the way to go) by reading up some useful posts.
Think about your style recipe and signature style.
Find out why Evolve Your Stylershave found the 'selfie' to be such a valuable tool in developing their personal styles.
Read Jill Chivers thoughts on The Art Gallery Method of Shopping (particularly useful if you are an impulse shopper).
Create balance in your style – this fascinating post by Angie of You Look Fab shows how some of us may swing one way then another through our lives with our styles.