How do you create a stylish outfit? What are some criteria you can use to decide if your outfit is fabulous (or even just good enough for you)? How do you know?
Here in this video Jill Chivers of 16 Style Types and I discuss this reader question.
What are your criteria for feeling great in your clothes?
You could think about what makes you feel good about yourself in your clothes? Maybe take a moment to reflect back on the outfits that make you feel the best and notice what you've put together and what has mattered to you as you've done this. Knowing what makes you feel great is something only you can know, part of your assessment may be what others say or tell you about your appearance, it could be the mirror, or outfit photos as well. But in the end, how you feel comes from your inside out.
Here are some possible criteria to consider.
Are you dressing for figure flattery?
Is that your number one criteria?
There are so many tips here on the blog to help you understand how to dress for your shape – from body shape (and you can do my body shape calculator quiz here if you're not sure of your shape) to proportions and variations (they are the bits and pieces unrelated to shape – the boobs, calves, upper arms etc. that many women either want to highlight or camouflage). All these elements of your body go into your body equation and will form your figure flattery guidelines.
If you want to dive deep into understanding everything that flatters your body, my 7 Steps to Style program is the place to do that, along with its comprehensive information on how to do this and my professional opinion on your shape, there is an amazing and supportive group of women who will help you identify what does and doesn't work about your outfits who are also doing the program.
One thing I've learned over the years is to make the assessment of the item in the store, and not bring home items that I know really aren't flattering to my figure so that I don't have to think about this so much when getting dressed. I know that for me, my waist is the part of my body I like to camouflage, so most of my outfits aim to do this for me. I feel better when I've achieved this successfully! This is why I think it's important before you buy to run a garment through your figure flattery criteria – and rate it – if it doesn't rate and 8 or more you're not going to love it more, and it's never going to make you look as amazing as you'd like when it's out of the store and in your wardrobe!
But I'm not worrying about my hips or arms or other body parts at the same time. But I know that if I'm feeling lumpy and bumpy in my outfit, or it's highlighting something I don't want attention drawn to, then I know that garment or outfit isn't right, and so it might be an indicator to let the item go, or just to wear it in a different way or combination that does work well for my figure. It's not all about figure flattery, just an element of it and for me, it's quite high up my list of criteria.
Figure flattery is important for many women, but it may not be your number one criteria.
Are you dressing in your ideal colour palette?
This is something both Jill and I do always take into consideration when choosing clothes. We both know we look so much better in the colours that highlight us, that make us look alive and healthy, and so have filled our wardrobes with these colours over the years. It can take time and effort to find clothes in your palette that you love , that also work with your figure flattery guidelines, but we both believe it's really worth it as these colours make it super easy to create lots of outfits in your wardrobe as they mix and match easily, plus you look super fine when wearing them!
You can get a colour analysis as well in my 7 Steps to Style program.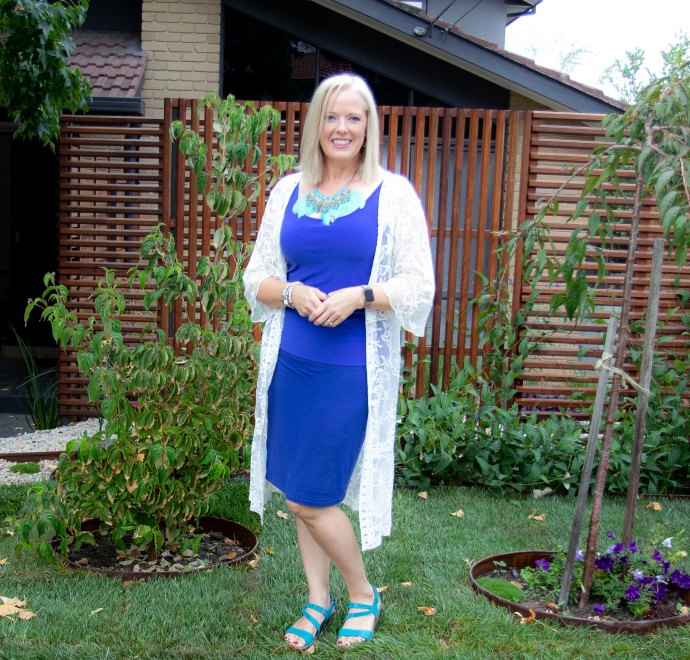 Are you dressing to start a conversation?
This is one of Jill's really important criteria. She loves that when she goes out and about in her day, that she's often stopped and complimented on her outfit by others and that this can so easily start a conversation and helps her form relationships with people, which is really important to her. It's the patterns and accessories, the fun use of colours that helps Jill do this daily.
Lee Wilkinson describes in her Stylish Thoughts interview here that she's dressing to be approachable and interesting.
Is this something that's also important to you?
Are you dressing for your personality?
Both Jill and I believe that dressing for your personality, expressing who you are through your outfit, is key to both looking good and feeling great in your clothes. So often when people tell me they don't love their outfit, it may look fine to the outsider, it may flatter their figure and suit their colouring, but it's the personality element that isn't right. They feel that what they are wearing is a costume – it's not them at their core.
What appeals to you? What expresses who you are? Your signature style elements will come into this part of creating a stylish outfit for you.
Jill's love of faux fur and leopard print are both personality-driven (Jill's house is also decorated with many animal print items and artworks). Even if that faux fur isn't particularly figure-flattering, she's happy to wear it anyway as it expresses a part of her personality and makes her feel great. Animal elements are part of Jill's signature style and so essential in every stylish outfit for her.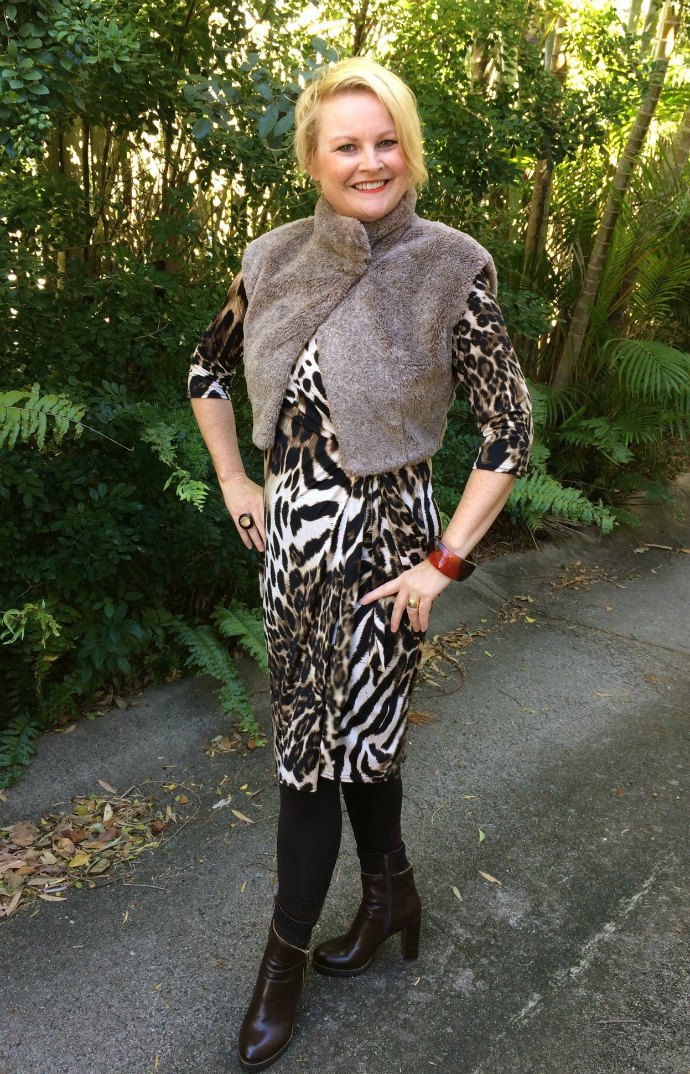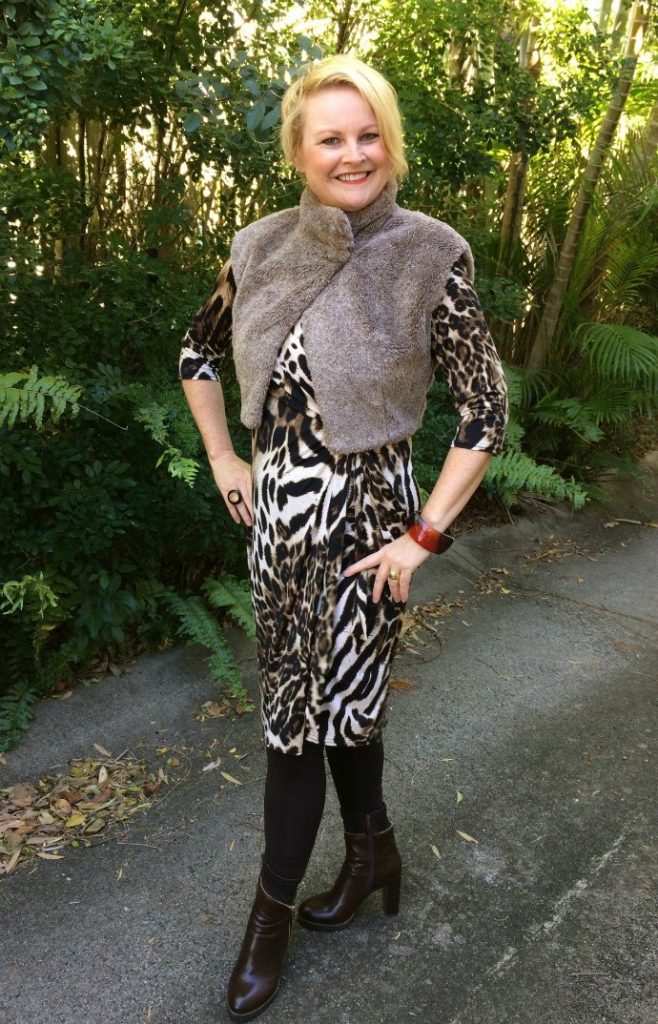 For me, I think without exception, I don't feel my outfit is great if I haven't accessorised in some way. Accessories are part of my signature style, and I've discovered that they take an outfit from good to great almost without exception. They really do add that finishing touch!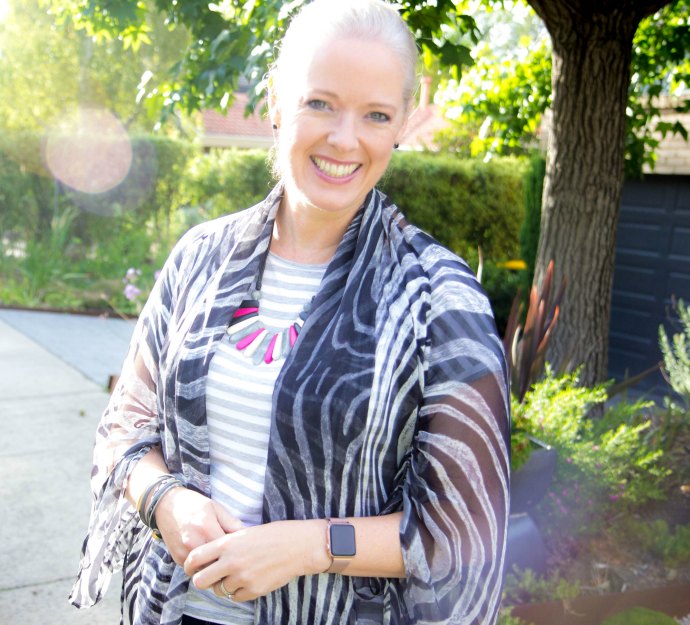 What you love, what sparks joy, what you're excited to wear – these can be really important decisions when dressing in an outfit.
Are you dressing for comfort?
This is one criterion that is super important to many of us. I have noticed that the older I get the more this matters. I no longer will put up with feeling physically uncomfortable in my clothing or shoes (see the rise of the sneaker for every age group).
Jill and I have spoken about this before (here) and it's something that is in both our criteria lists! But neither of us will sacrifice style for comfort as we know that stylish doesn't have to mean just utilitarian and unstylish. With the fabulous fabrics that are now available – the stretch technology in fabrics that you get in everything from jeans to suiting means that you don't need to just wear activewear to be physically comfortable in your clothes.
Are you dressing for your mood?
When you've got a wardrobe of things you enjoy wearing, that may flatter your figure, and be great colours for you, your criteria may include your mood of the day. What you feel like wearing.
I know for me that I have to take my mood into consideration I don't feel quite right. I may have planned an outfit the night before, and then wake up and that outfit no longer suits my mood and I have to wear something else. Mood is high up on my criteria list as I know that something that I can't concentrate on other things if I'm not feeling right in my clothes – that my clothes aren't fitting my mood!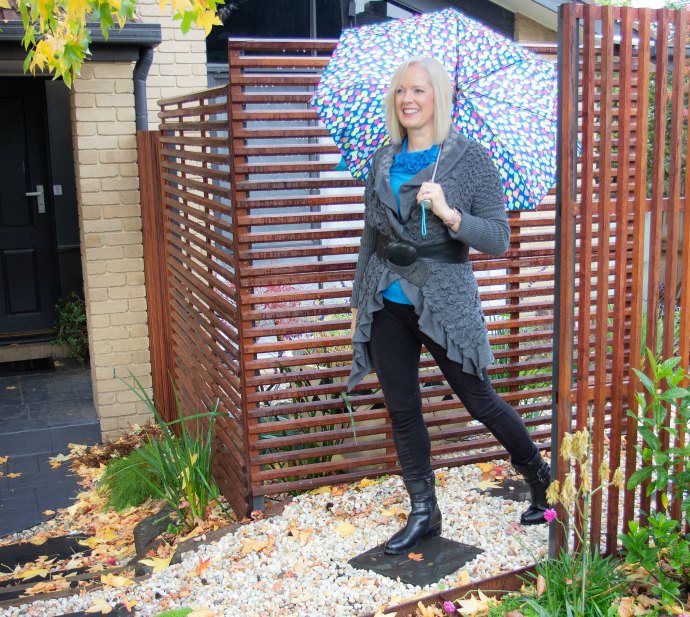 If you're a mood dresser, then your criteria of what fits your mood may change each day. What is great one day is not necessarily great the next!
Are you dressing to create something new?
There are many who enjoy the whole process of getting dressed. It's a daily creative endeavour that they love. They challenge themselves to come up with new and inspiring ways of putting what they have in their wardrobe together in a new and unique way. They exercise their creative muscles each day by doing this and find it fun and love the endless possibilities of creating combinations with their clothes and accessories.
Are you dressing to amuse yourself?
One criterion you may not think about when putting together your outfits is are you doing something to amuse yourself as you dress each day. My husband does this frequently, he'll decide on a theme such as checked shirt week or striped tie week and most recently, odd sock week, he doesn't expect anyone else to notice, but enjoys using this week's theme to create his daily outfits. We discovered that he's not alone when we were doing our research for 16 Style Types, and that others too will set their own criteria each week, their own challenges that amuse themselves.
Your Criteria for Deciding and Outfit is Stylish
It takes time to build a truly authentic style as there are so many facets to clothing yourself. The physical elements (your unique body and colouring), the personality elements (who you are and how you want to express this through your clothes and image), your mood of the day and how you're feeling and what is right for you at that particular time.
Sadly there isn't one thing to know or one rule that you need to know or consider. In the end, your criteria will be personal to you.
We'd love to know what your criteria are to know if your outfit is great and what your thought process is. Where does figure flattery fit in your criteria list? What is and isn't important to you? Please do share in the comments here!
More Tips on Creating Stylish Outfits
Why the Wardrobes of the Most Stylish Women are Built Over Time
All My Best Tips and Inspiration for Putting Together Stylish Outfits
10 Ways Personality Is More Important Than Body Shape When Choosing Flattering Clothes