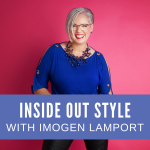 In This Episode
0.08 How much of each colours should I wear when combining colours?
3.34 How do you wear multiple long sleeves in winter without them twisting?
4.30 I have a diamond shape face and H body shape – what's my best neckline?
How to Mix Colours
Winter Stylish Outfit
Neckline Guide
Your Ultimate Guide to 17 Necklines and Which to Choose to Flatter Your Features
6 Insanely Simple Ways to Know if Your Neckline Need a Necklace
Understanding Balance Points and How They Influence Your Choice of Neckline
If You'd Like to Define Your Style and Discover Your Colours
If you're sick of wasting money on clothes that don't work and you know there is a better way, then join my 7 Steps to Style program and get the right information for you and your style.
Subscribe to my Podcast
You can now get these videos as podcasts subscribe and never miss an episode
Send me Your Questions
Please email me your questions to be included in my Q&A Lucky Dip!