Wouldn't you love a wardrobe of clothes that are super easy to mix and match and create lots of different outfits together as the colours just naturally go together?
Fortunately, this is not something that is actually tricky when you're working with a colour palette that has related colour properties. This is why getting a personal colour analysis and working within this palette gives you more outfit options from fewer items, as there is natural harmony between the colours.
Mixing Colours
When mixing colours (not talking about mixing a neutral with colours) when dressing, use the concepts discussed here matching undertone and intensity. Below you will notice that the clear, bright colours work well together, whilst the more muted skirts would be jarred by putting a brighter accessory with them.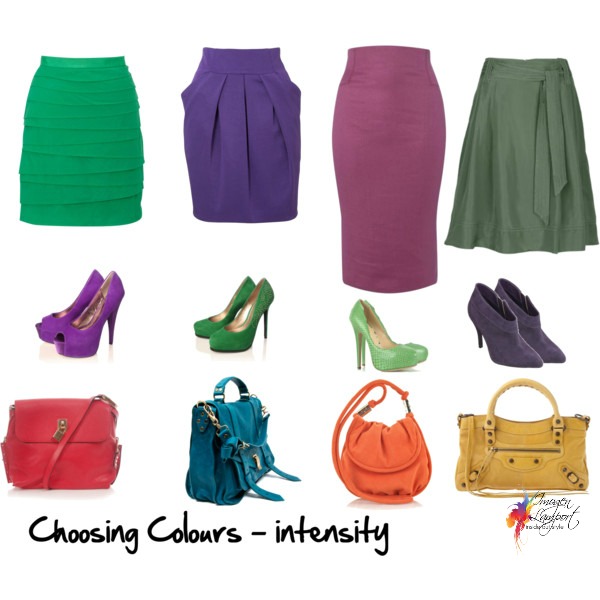 The overall value you choose is based on your own natural ideal value. So if you have dark eyes and pale skin and light hair, go for a combination of light and dark colours, with more light than dark – as your hair is light so your ideal value (which should be more of your outfit) is light too. If you had dark hair and light skin, go for an overall darker outfit with pops of light to create the right value contrast for you (more on understanding your value contrast here).
If you have light eyes, hair and skin colours, keep the value (lightness or darkness) more similar and preferably on the lighter end of the spectrum. If you are overall darker in hair, eyes and/or skin colours and don't have really bright teeth or whites of your eyes, then keep your value darker and more similar.
Each of the 18 colour groups in the 18 directional Absolute Colour System has properties in harmony. The groups are named for the feeling of the colours, rather than seasonal (spring, summer etc) or just colour descriptors (warm, cool, light, soft etc.)
Choosing Colours
Here in the Zesty palette, the colours are bright and clear, warm and overall lighter.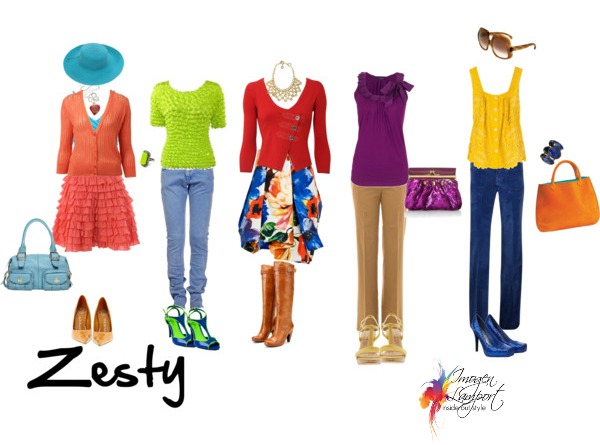 Here in the Spicy palette the colours are still warm and lighter but are not as bright.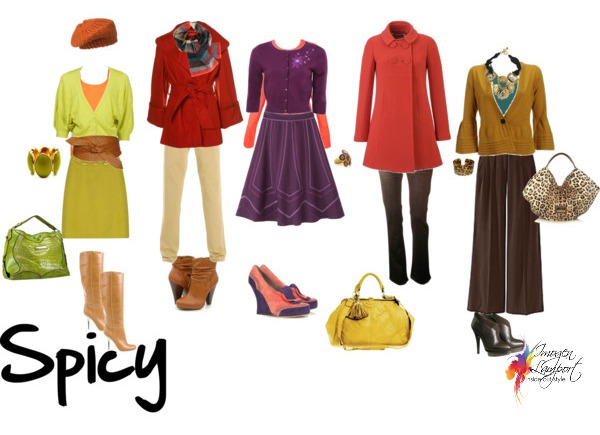 You would not be able to mix the Spicy palette with the Dynamic palette (below), as both the intensity and undertone are different.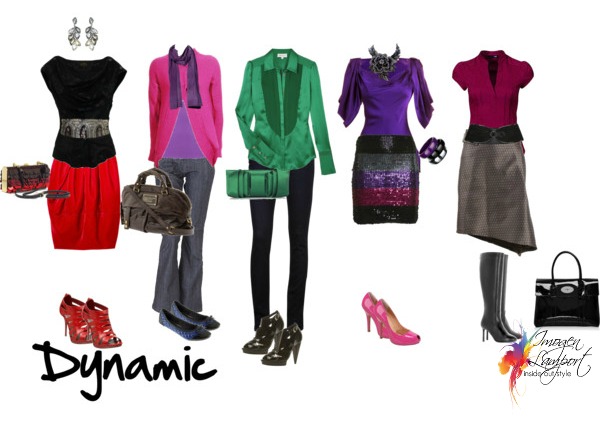 Notice how the colours blend and harmonise easily – mixing and matching works when choosing the same undertone and intensity.
The reason why so many people feel that they have no skill in mixing and matching colours is that they are trying to mix colours that have different colour properties and they naturally clash and so won't work together, instead of looking to mix colours with similar properties.
As you can see from the image at the top of this post, it's easy to mix colours when the properties are the same – the mixes may feel more outrageous or adventurous than you'd usually choose, but why not try something a little different using this colour theory to make it work for you.
If you've no idea which colours really suit you now (as your colouring changes with your age) then you can get a personal colour analysis as part of my 7 Steps to Style program (and I'll also give you my professional opinion on your ideal value and both value and colour contrasts too), taking the guesswork out of putting your wardrobe together.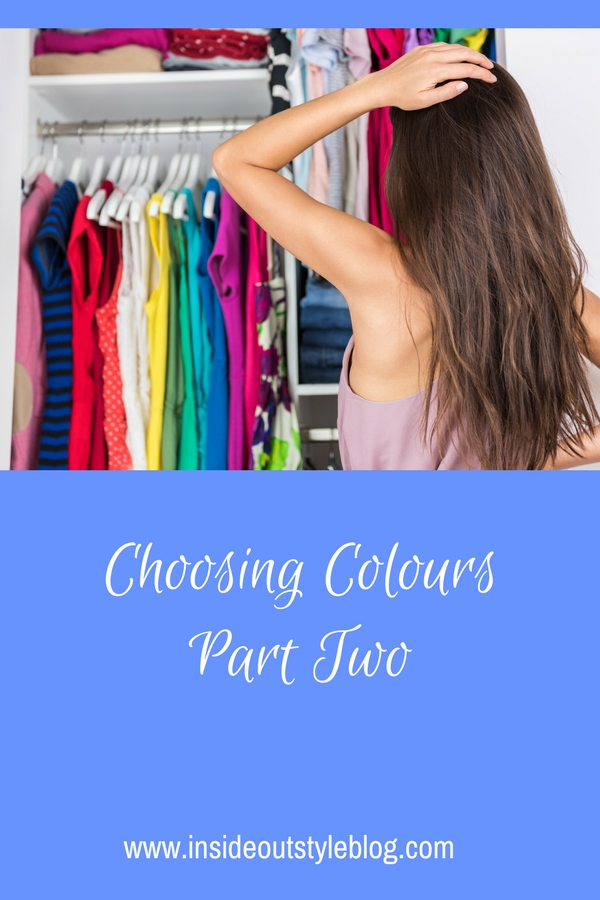 9 Ways Knowing Your Best Colours Will Change Your Life as Well as Your Wardrobe
How to Manage the Transition from One Colour Palette or Season to Another