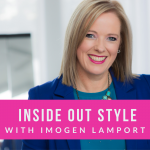 In This Episode
0.08 – What to put on your legs – socks, stockings what to wear with skirts and dresses, how about jeans?
4.05 – As a deep value and neturals plus one colour how much colour in one outfit do you you think looks best?
6.15 – What shoes don't look frumpy?
What to Wear with Shoes
More Colour Contrast
How to Wear Your High Colour Contrast When Your Personality Prefers to Blend-In
The Value of Value Contrast and Using it to Create Stunning Outfits
More about Shoes
Your Essential Guide to Choosing the Right Shoe Styles to Pair with Your Jeans
If You'd Like to Define Your Style and Discover Your Colours
If you're sick of wasting money on clothes that don't work and you know there is a better way, then join my 7 Steps to Style program and get the right information for you and your style.
Subscribe to my Podcast
You can now get these videos as podcasts subscribe and never miss an episode
Send me Your Questions
Please email me your questions to be included in my Q&A Lucky Dip!