Reader Question from the Lovely La Belette Rouge who recently lost almost her entire shoe wardrobe : What shoes do I need when you are rebuilding a shoe wardrobe? I am thinking of starting with black riding boots, animal print flats, plain black pumps and a loafer. I have ballet flats(5 pairs), black high oxfords, black sexy knee length boots, black and red sling pumps, gold strappy sandals, brown suede high heeled penny loafers and sneakers, uggs, MBTs, and flip-flops( thongs).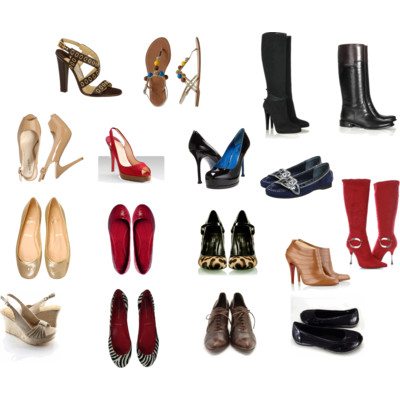 Start off with a shoe and a sandal in your hair colour – these can be worn with lots of things as they create what we call Visual Grouping, they lead your eyes back to your face.
Nude shoes are also great – choose a shoe that blends well with your skin and they elongate your legs and can also be worn with lots of different outfits.
A dark pump in something like black or brown (depending on your favoured dark neutral), and if you wear black pants, black shoes will blend well. A selection of great comfortable flats such as ballet flats are great – choose a few colours that work back with your wardrobe. (see my How to Wear Red post to give you ideas of how to work coloured shoes into your wardrobe – they don't just have to be red!)
Oxfords and Loafers are great to wear with trousers.
If you need to walk to work and change your shoes there – look for a black or darker sneaker type shoe that is comfortable, but discreet.
Boots are great – if you wear trousers go more for short boots, if you wear skirts go for knee length boots to elongate and slim your legs. Riding boots in brown or black, plus boots with heels.
A red boot is also a great staple. Some dressier shoes such as peep toes are essential. Sandals are also a must if you live in a warmer climate, both strappy and high, plus flat sandals and flip flops – preferably with a little feminine detail or interest.
A pair of wedges are also great – they provide stability with a bit of extra height (if you want or need it). They're a good choice to wear with cropped pants/clam diggers especially in a skin colour.
There are so many shoes that you could choose – and it's good for your feet not to wear the same shoes day after day, so you don't grow corns and bunions and so you shoes have a chance to dry out properly.
What shoes couldn't you live without?