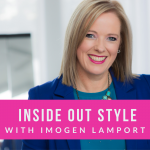 In This Episode
0.10 When should you wear nude shoes with dark hair and when should you wear dark ones for visual grouping? How to choose your best nude colour for a shoe?
5.17: Is a medium size necklace and small crossbody bag enough for colour contrast?
6.44 How to adjust my wardrobe for my new grey hair
Shoe Selection
Colour Contrast by Adding Element to Your Outfit
How to Choose Linking Pieces and Accessories to Co-ordinate Your Outfit More Stylishly
How to Choose Accessories to Match Your Personality and Occasion
Wardrobe for Grey Hair
Choosing Colours When You Have Grey Hair But a Warm Skin Undertone
If You'd Like to Define Your Style and Discover Your Colours
If you're sick of wasting money on clothes that don't work and you know there is a better way, then join my 7 Steps to Style program and get the right information for you and your style.
Subscribe to my Podcast
You can now get these videos as podcasts subscribe and never miss an episode
Send me Your Questions
Please email me your questions to be included in my Q&A Lucky Dip!