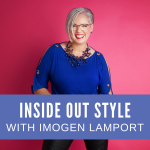 In This Episode
0.12 If you had to choose between two dresses, one had a great colour but was not flattering for your body shape, the other fit amazing, and was very flattering but was not a good colour – which would you choose?
2.19 How to choose prints?
8.20 I wear a lot of colours which limits my ability to mix and match items on a limited budget – any suggestions?
How to Shop – Tips and Tricks
9 Ways Knowing Your Best Colours Will Change Your Life as Well as Your Wardrobe
How to Choose Flattering Prints
How to Choose Prints and Patterns that Go With Your Colour Palette
How to Mix and Match
If You'd Like to Define Your Style and Discover Your Colours
If you're sick of wasting money on clothes that don't work and you know there is a better way, then join my 7 Steps to Style program and get the right information for you and your style.
Subscribe to my Podcast
You can now get these videos as podcasts subscribe and never miss an episode
Send me Your Questions
Please email me your questions to be included in my Q&A Lucky Dip!