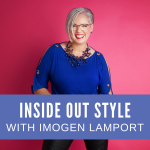 In This Episode
0.10 Can I wear a turtle neck or polo neck with a soft rounded chin and jowls?
2.15 I have brown skin and there are some browns in my Opulent swatch close to my skin colour – can I wear these alone or not?
4.20 I keep buying things that I end up not wearing, how can I shop more successfully?
Tips on how to Accessorize and flatter your feature
Your Ultimate Guide to 17 Necklines and Which to Choose to Flatter Your Features
Understanding Balance Points and How They Influence Your Choice of Neckline
Understanding the Colour Brown
How to Pick the Undertone of Brown to Find the Most Flattering Shade
How to shop like a Pro
How I Help Clients Shop Smarter By Making a Simple Purchasing Decision Graphic
If You'd Like to Define Your Style and Discover Your Colours
If you're sick of wasting money on clothes that don't work and you know there is a better way, then join my 7 Steps to Style program and get the right information for you and your style.
Subscribe to my Podcast
You can now get these videos as podcasts subscribe and never miss an episode
Send me Your Questions
Please email me your questions to be included in my Q&A Lucky Dip!