One of the tricks in my magician's bag of illusions is using colour to elongate and make you look taller (if this is something you desire).
Here are some simple ways you can create a more elongated silhouette without having to wear heels of any description!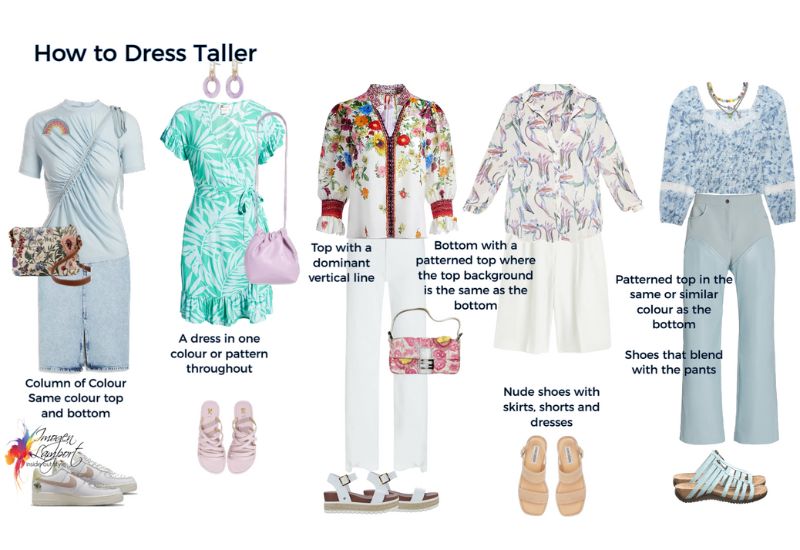 1. Column of Colour
This is a single colour that runs through your top and bottom – there are two versions – an inner column where your top matches your bottom, or an outer column, where your jacket/cardigan matches your bottoms (your top can be in a different colour). Here are more tips on columns of colour in different outfits.

Discover how to get the right contrasts in your column of colour outfits.
2. Wear a Dress
A dress is usually a single colour or pattern that runs the whole way through the garment, making it basically an unbroken column.
3. Verticals Details
Look for vertical details in your outfits – you'll notice that the top has a dominant vertical line up the placket (buttoned up area) that helps to draw the eye up to the face. Plus the background of the print is the same colour as the pants, the main detail of the pattern being up high on the shoulders.
4. Matching Colour Background in Your Prints
If you want to wear a print, choose one with a background colour that matches your bottom half, it's like a column of colour but a more interesting version and the print will also draw attention up to your upper body. Here are 3 simple steps to choosing a patterned garment in a column of colour.
5. Nude Shoes
Blend your shoes to your legs with any skirts, dresses or shorts as this will make your legs appear longer. Here are tips on finding your best nude shoe.
6. Match Shoe Colour
Choose a shoe where the colour blends with your pants or hosiery rather than choosing an alternate colour.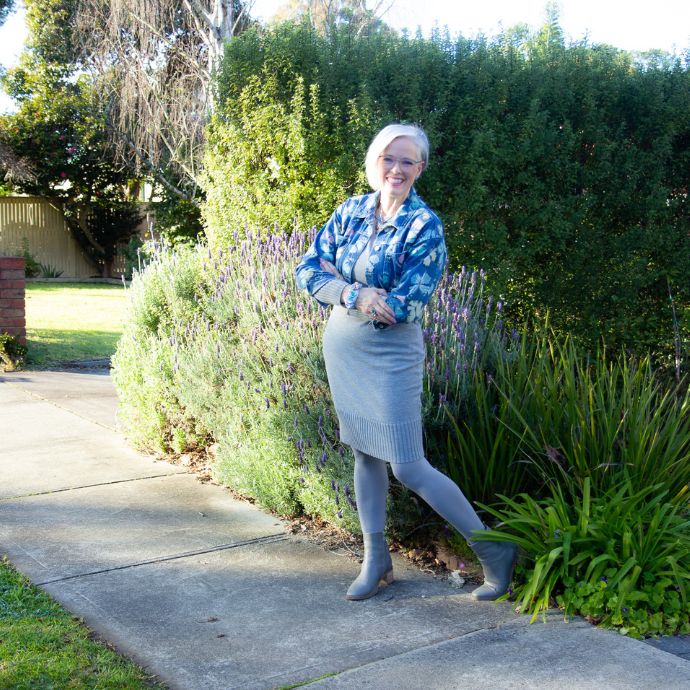 Here my dress, tights and boots are all blending together reducing what would otherwise be obvious horizontal lines that are shortening.
7. Prints Colour Match
Wear a print that the dominant colour in it is the same as your bottoms.
So there you have 7 easy ways to elongate your look without sacrificing your feet and comfort! Which one will you be trying in your next outfit?
If you'd love to get my professional opinion on your body shape and colouring so you can curate a wardrobe of clothes that really work for you (and stop wasting money on the wrong things, then my 7 Steps to Style program is for you.
More Tips on Elongation
Brilliant Tricks of the Clothing Magician – How to Highlight and Camouflage for Figure Flattery