I have recently acquired some lovely short sleeve kind of shrugs or boleros and cropped jackets. They are on the dressier side. One is silk with a slight sheen and the other is a low pile faux fur in a classic leopard print. I know how to wear them with a little dark dress but is there a way to adapt them for more casual wear?
A bolero jacket or shrug is a smart addition to any well-rounded wardrobe. In addition to being functional pieces that perform well when the air gets a bit chilly or an element of modesty is required, these toppers also present chic alternatives to basic cardigans, shawls and jackets.
Levels of Refinement
As soon as I read this question I realised that it has to do with the concept we call Levels of Refinement. It relates to fabrics as well as accessories and style of clothing. Level of Refinement is one of the four main Principles of Co-ordination, along with Principle of Volume; Related Shapes and Related Lines. Each of these influences how we put outfits together, from accessories to garments, and how to choose garments that are designed in an attractive fashion too!
There are 3 levels of refinement:
Level 1 – Formal wear – from business formal clothing to evening wear. Typically fabrics that need special care (dry cleaning is a clue)!
Level 2 – Everyday smart clothing that isn't too bulk made from fabrics that can be laundered easily at home.
Level 3 – Outdoor leisure made from fabrics that are bulkier or chunkier or very informal.
It's easy to wear two levels at once such as from Level 2 with either Level 1 or Level 3 items. It's much harder when we're combining items from refinements Level 1 and Level 3 unless you have a creative or rebellious personality style. So if you are wearing sneakers, this is not the day to wear your Level 1 shrugs and boleros. Wear them with a pair of fabulous jeans fabulous and make sure that your shoes are also level two rather than being level three shoes. A pair of boots or ballet flats – something more refined on your feet.
Proportions Matters
Shrugs and boleros are short garments so you want to be aware of how your body proportions work with them and where you are creating horizontal lines.
When we think about using lines to create the illusion of length and/or slimness. Verticals lengthen because they go up and down but also because our eyes move along them more quickly than they do on horizontal or curved lines. Creating an inner column of colour will give the illusion of longer slimmer appearance. By adding a shrug or bolero you can bring attention to your face and provide waist definition.
They work to create an hourglass illusion even if there's not much va-va to your va-va-voom. Find a shrug that crops at the tiniest part of your waist or even higher on your rib cage if that's narrower than your waist, creating a curvy silhouette and giving length to the look of your legs.
4 Easy Shrug and Bolero Styling Options
Styling a bolero or shrug is very simple, basic and easy. If you're the one who's ready to experiment with their looks, go for print clashing. If you are keen to play it safe, choose a solid coloured shrug with a print dress or top. If you're opting for a printed shrug, then try opting for a solid coloured dress or blouse.
Layer bolero or shrug over a long, lean tank top, a pair of fabulous jeans, heels and a sparkly necklace or earrings.
Pop a bolero or shrug over a maxi dress and sparkly heel or dressy sandals. The crop shape balances the length of the dress, brings the eye upward and can add height to the body.
A bolero may be appropriate over your work shift dresses to keep you warm in the cool air conditions and also provide waist definition.
Loose, flowy tops can be relaxed and they can also be boxy. A bolero or shrug will add a subtle waist shape as it grazes over the body while still allowing the top to be fluid.
If you want more ideas on how to create outfits that really represent your personality and how to add a more dressy garment to a more casual outfit – check out my Outfit Masterclass.
Experiment Styling Your Shrugs and Boleros!
Go out and experiment! Have fun and get your wear out of your fancy shrugs and boleros. There is no point in keeping clothes for only special occasions. Most of us don't have a special occasion so go get some wear out of that beautiful thing.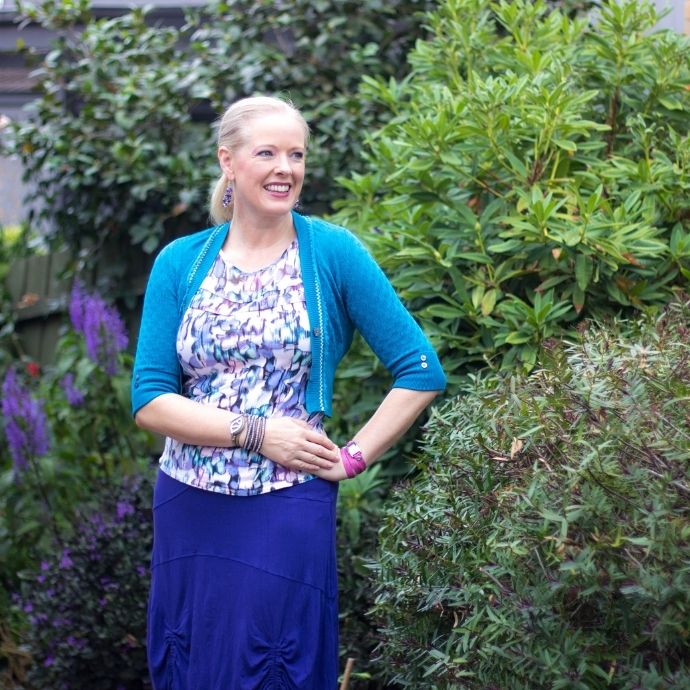 Fashions trends don't stay forever. They are a bit like milk, they go off over time so you may as well get the wear out of them. We've been locked up for so long that just leaving the house coud be considered a special occasion. So if it makes you happy, you love wearing them; if you think they're gorgeous and you've already invested in them, then get your cost per wear out of all those amazing pieces.
If you think you know you're in a bit of a style rut then head over and check out my Evolve Your Style 31 day challenge. It's one of my style programs that is designed to help get you out of your style rut. You'll be amazed at how fast your style will change and confidence will improve.
Further Reading