Following on from my post on How Not to Look Like Mutton Dressed as Lamb, some interesting thoughts were put forward.
Karen asked that I do something on Jeans for the woman who is neither mutton nor lamb, who is of a certain age, so I've created this little image to share with you.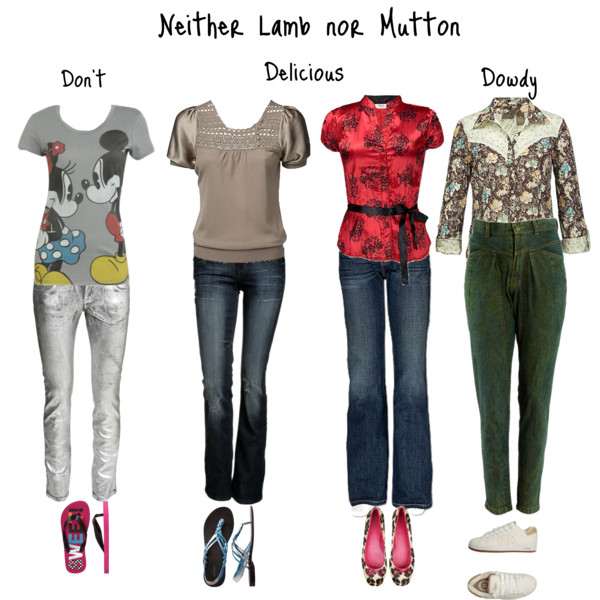 There are two no's and two yes's (those are the ones in the middle).
If you're past your 20s then slogan and cartoon t-shirts are too young for you, and ultra skinny jeans are likely not to be flattering, especially those with 'interesting' washes.
This look just says 'trying too hard to look young' on a more mature woman.
Go for a higher quality look with a dressier top and shoes, still casual and easy to run around in, but way more stylish.
I also spend a lot of time throwing out floral garments that are very dated – florals will always be 'in' but the look and feel of the floral changes over time. And then, of course, there is the jean, a straight leg or boot cut with a medium rise is flattering for many women. High rise/waist jeans with pleats and tapered legs are usually not, yet I see so many women still wearing these jeans, and usually, they're a couple of inches too short too so we can see the colour of your socks.
You all asked for a flat shoe version too – so there are no heels here, just comfortable shoes you can run around in all day – but still look stylish.