Welcome to the last post of 2021! It's been an absolute pleasure to have your company throughout the year. In particular, I like to say an especially big "Thank you" to everyone who shared a blog post; bought one of my programs or took the time to share their style stories in one of my Facebook groups. But before I ride off into the sunset (for 2021, anyway), here are the ten most popular posts of 2021 – as read by you.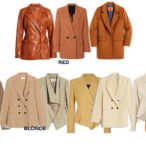 If your goal is to build a compact versatile capsule wardrobe, the individual colours in your palette should be as mixable as possible, to maximise the number of outfits you can build. I have some suggestions on how to select a flattering colour scheme to build your wardrobe capsule around including which are your best neutrals and colours to choose….
What are the keys
to
creating
flatter
ing
outfit
s for the
X
body
shape
(it's one of the two hourglass
body
shape
s)? The
X
shape
has similar width shoulders and hips, with a defined waist. The widest part of the hip is at the upper thigh. So when putting
outfit
s
to
gether,
you want

to

think about these key points….
Beige, stone, khaki, mushroom, light camel … the list of possible light neutral colours with a slight brown base is endless, but really the name of the colour doesn't matter. It's what you wear with them that counts and you have a myriad of choices. So often a beige pair of trousers are worn with a white shirt. Sure it works, but that can become a bit boring and unimaginative. Instead, let's look at some alternatives to this classic formula and find some new ways to wear your beige pants.
Have you wondered about which colours really make you shine? If you're not sure, one of the first colour challenges you face is figuring out if you have a warm or cool skin undertone. One of the reasons I developed the Absolute Colour System of 18 colour palettes was because I identified that there weren't enough options, and I was forced to put someone into a less than ideal palette rather than having one that worked for them. Here are my tips to help you figure out if you have a warm or cool skin undertone?
What are the keys to creating flattering outfits for the A body shape? The A shape has narrower shoulders than hips with a defined waist and is often described as a pear shape body. The widest part of the hip is at the upper thigh unlike the 8 shape whose widest point is higher just below the waist. So when putting outfits together, you want to think about these key points….
I answer a reader question about how to put together a simple relaxed wardrobe in their colours that is both stylish and practical. It's no exaggeration to say that a fabulous capsule wardrobe can transform your working life. It save you tons of time, money and mental energy on a daily basis.
No matter how young or old you are, we can agree that we all want to look and feel our best. One question I am often asked is 'Does grey hair mean I need to change the colours I wear?' Both hair colour and complexion change as we get older and certain colour that used to make your shine now make you look sallow, dull, or washed out. When I'm doing a colour analysis, I'm assessing how you look in comparison to other colours to find the colours that bring you to life. How have you noticed that your colouring has changed as you've aged?
Colour contrast tells you how to put colours together for you to wear in outfits that flatter your natural colouring. Your colour contrast is defined by how many colours you have naturally occurring in your colouring and how different they are from each other. You can discover your colour contrast here. I love colour and I don't have a naturally high colour contrast so I have three tips for incorporating more colours in your outfit…
Defining your personal style and knowing your personal colours is the easiest way to have a wardrobe full of clothes you love to wear. It takes the guesswork, the uncertainty and the frustration out of shopping for clothes and creating outfits. There is no point in spending a whole lot of money on clothes that you're not going to love in the long term and that aren't going to love you back. When you haven't got the perfect clothes already, which aspect of colour is more important – the undertone or the value or the intensity?
I'd love to know – which were the posts that had the biggest impact on your style in 2021?