What are the keys to creating flattering outfits for the H body shape or Rectangle shape? The other rectangle shape with an undefined waist is the I shape – if you are very slim with what you may think of as a more boyish figure – this is your shape.
The H shape has similar width shoulders and hips, with an undefined waist. If you want all the details grab your H Body Shape Bible here.
You may have a slight waist or no definition at all at the waist.
So when putting outfits together, you want to think about these key points:
Create the Illusion of a Waist Without Drawing Attention to it
Avoid horizontal lines at your waist, as horizontals make an area appear broader, and you don't want to draw attention to your lack of waist. Instead, you are looking for garments that may have inbuilt shaping that comes in at the waist, but without any horizontal details (generally avoid belts at the waist, particularly narrow ones). One style that can work well is a more voluminous top with a slim bottom.
Your body is designed for a straight vertical silhouette! Think shift dresses, pencil skirts, and straight-leg pants as they follow and harmonises with your shape.
Don't Draw Attention to Your Waist
Don't tuck in tightly. If you want to tuck, do it only with more voluminous garments, then tuck and blouse the top over the waistband to create more of an illusion that the narrower waistband is significantly slimmer than the bloused top.
Choose hip bone to thigh length jackets and blazers, cropped and waist-length jackets can work over dresses but are otherwise going to create more of a waist focus.
If you have wider hips avoid tops that end at your upper thigh. In general, the top that ends around your hip bone (high hip) is the most flattering length both for your H shape body and most body proportions.
Curved hems that are higher at the side and dip down at the front are always a flattering option if you want to hide your tummy a touch!
Draw Attention Up With Detail
Draw attention up to your upper body with interest and detail. You can use colours, patterns, and accessories to do this. It's always flattering to add some sort of focal point to your portrait area no matter your shape!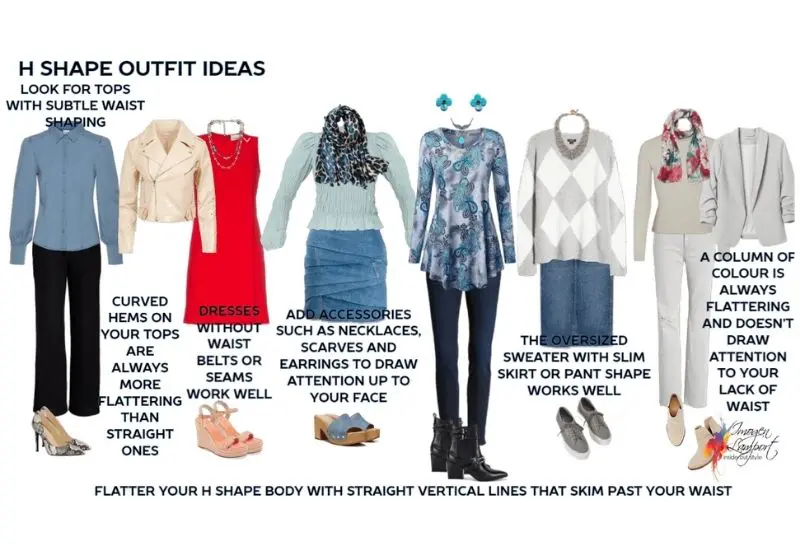 Outfit Ideas for the H Shape Body
With these simple guidelines in mind, you can play in your wardrobe and create stylish and flattering outfits. Here are some examples.
Tops with curved hems are a great and flattering way to remove horizontal lines from around your mid-section.
Straighter-shaped dresses are a great way to flatter your figure and are often more comfortable to wear as H shapes tend to find that pants will tend to slide down your hips as you don't have a defined waist to hold them up. Add a leather jacket or denim jacket to your dresses to give them an edgy or more casual look.
Add accessories to your portrait area – necklaces, scarves, brooches and statement earrings are all great ways to draw attention up to your gorgeous face and away from your mid-section. You always want to create a focal point in every outfit.
Tunic tops with slim jeans or a pencil skirt with an oversized jumper/sweater work well for your shape. Use interesting patterns to add variety and interest to your outfits.
A column of colour is a fantastic way to avoid drawing attention to your middle when wearing a top and bottom (top and pant or top and skirt) as you are removing that obvious horizontal from your mid-section. Then adding a long line cardigan or blazer will provide some slimming verticals to flatter your torso.
Discover Your Shape
Not sure of your body shape? Take my free body shape calculator quiz – instructions and quiz here. If you'd like my professional opinion on your shape, you can get it as part of my 7 Steps to Style System – which walks you through everything you need to know about flattering your figure, your colouring and understanding how to express your personality through your clothes and outfits as well. It's the full image program that will assist you in defining your style so that you can build a wardrobe full of clothes that you love to wear.
Further H Body Shape Reading