Style and fashion can be overwhelming. There will be days when getting dressed is a struggle when you can't pick an outfit or you find yourself wearing the same pieces in your wardrobe that you have always worn, in the same combination and not feeling excited about them.
Defining your personal style and knowing your personal colours is the easiest way to have a wardrobe full of clothes you love to wear. It takes the guesswork, the uncertainty and the frustration out of shopping for clothes and creating outfits.
There is no point in spending a whole lot of money on clothes that you're not going to love in the long term and that aren't going to love you back.
When you haven't got the perfect clothes already, which aspect of colour is more important – the undertone or the value or the intensity?
Warm Vs Cool aka Colour Undertone
One of the most confusing bits about colour analysis is the distinction between warm and cool colours. Undertones are the colours that come through your skin from underneath the surface to affect its overall hue. Understanding your skin's undertone is key in choosing the best colours for you.
When warm people are wearing cool colours, they look washed out, drained and tired. When cool people are wearing warm colours, they tend to look a bit jaundiced and sickly. Neither is good. If you want to look healthy make sure you stick with your undertone as this will create harmony with your skin and make you look vibrant, alive and be in harmony with you.
Have you wondered about which colours really make you shine? Figure out if you are warm or cool toned here… or just get my professional opinion with an online personal colour analysis.
To my experienced eye, the wrong undertone is usually really unflattering and can make you look quite ill. So my advice… just don't go there!
Light Vs Dark aka Colour Value
If you have an overall light value a wardrobe full of dark clothes will drain you. You could get away with a dark bottom and then use the stair principle to jump through the values to get up to the top.
The stair principle considers value contrast as a set of stairs. So using the stair principle, you can walk up value contrast like a set of stairs.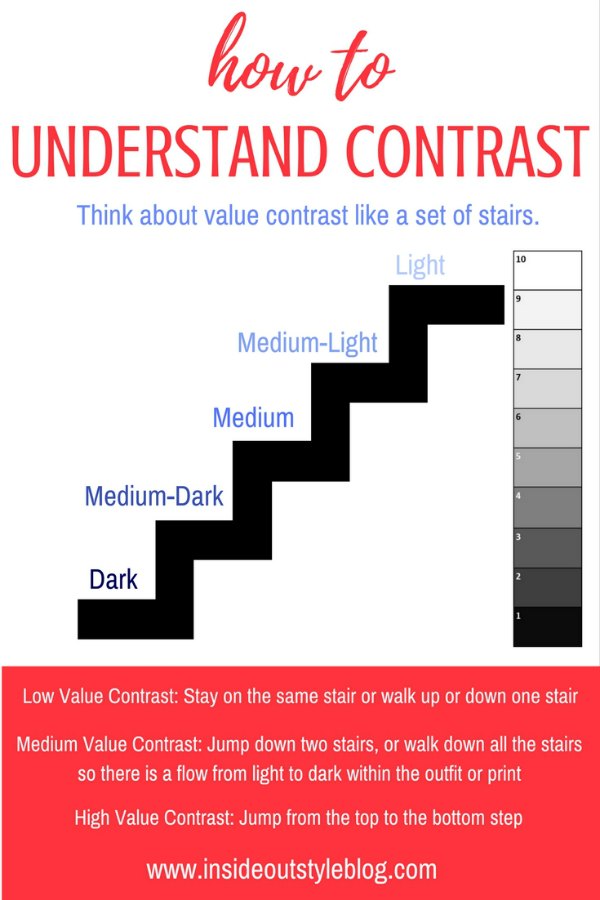 High contrast = jump from the top step to the bottom step
Medium contrast = jump up or down no more than 2 steps, or walk all the stairs one at a time
Low contrast = stay on the same step and don't move more than 1 step away
Your ideal print or pattern relates to your own value contrast. But should you wish to wear a print that is outside of your natural value contrast then find a print that walks you down the stairs rather than one that jumps from top to bottom.
If you happen to be more medium value, then you can go a bit lighter and a bit darker but you still don't want to go to the extremes.
Wearing the less than ideal value on your bottom half is definitely possible, Just make sure around your face you have a majority of a good to great ideal value.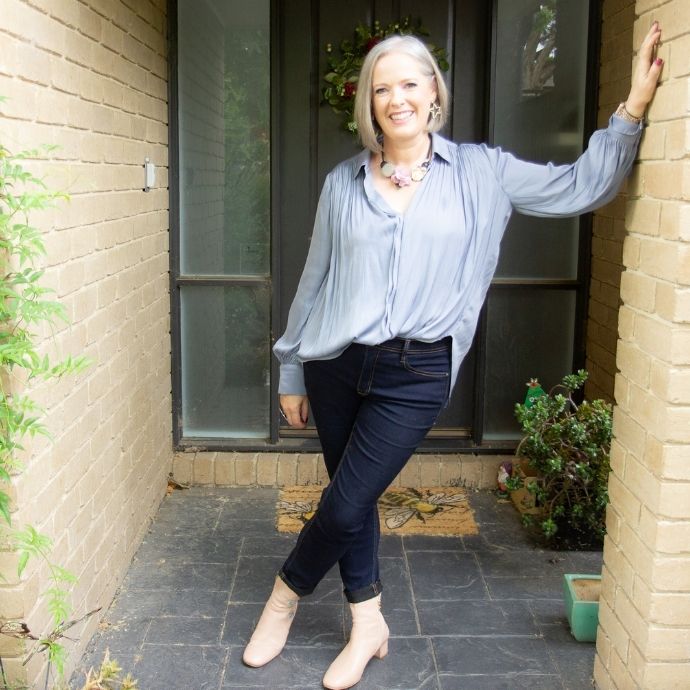 Here is an example of a great value top for me with a less ideal bottom.
Bright Vs Muted aka Intensity
So how about wearing a different intensity to the colours that are ideal for you?
Bright colours will stand out and be more apparent – they have an advancing quality. If they are unrelated to your colouring they will draw attention to your body and become the focal point and so if your aim is to camouflage your body in some way, colours with more intensity than you have won't be helpful to do this!
Muted/smoky colours will recede and be less apparent. They won't create the same body focus as bright colours, but if your colouring is brighter, they will make you look dull and lifeless (when doing colour analysis what my brighter intensity clients notice when we pull away the brighter drape to reveal the more muted, is that they suddenly look like the life has gone out of them. It's drab and dull and not great.
If you have to go outside of your ideal colour palette, a touch brighter or more muted isn't the end of the world, but don't stray too far away! Plus you'll find if you keep purchasing clothing that is in a different intensity to your palette, you'll end up with lots of wardrobe orphans rather than clothes that easily mix and match because they have the same colour properties.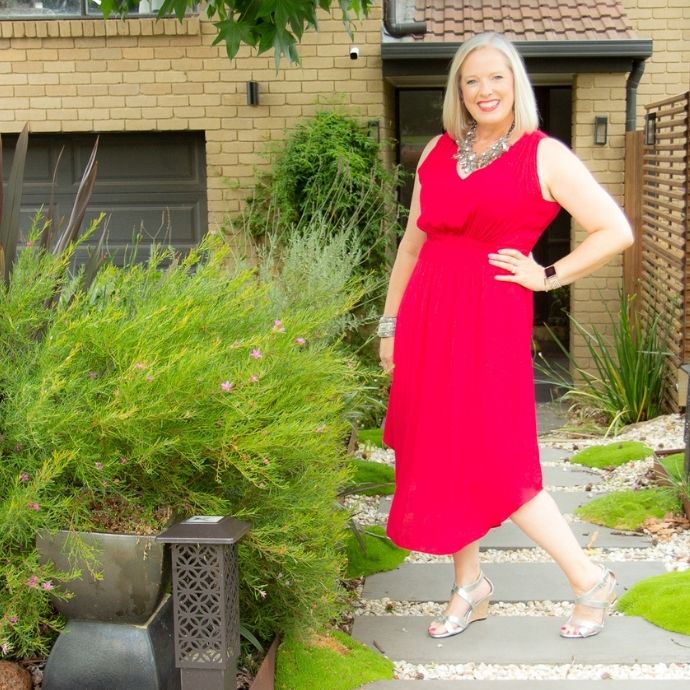 You may need to up your makeup – a slightly brighter lipstick or a bit more concealer if the intensity is very different to your own to compensate! By adding more and brighter colours to you complexion you can balance out the colour you're wearing.
Dyeing
If you can't find quite the right colour or value then dyeing is an option. You can dye it with the same colour to deepen its value or overdye it with a different colour to make it warmer or cooler or overdye it to make a completely new colour. If you are keen to try dyeing your clothes, make sure you read Everything You Need to Know to Overdye Your Clothes at Home and Get a Brilliant Result
Many people think that you can only dye solid fabrics. But that simply isn't true! In fact, overdyeing patterns is our latest obsession. You can add colour and depth to existing patterns that might need it.
When selecting colours to overdye a pattern, the colour you choose to overdye with will mix with the existing colour (s) in the fabric to create new colours. If you are trying to predict the outcome, just remember that colour rules will apply. As an example, if you were to use a blue dye on a white item with a pink flower pattern, the pink flowers will turn purplish (blue and pink make purple) while the rest of the fabric will dye blue.
Sustainable Style
The more knowledge you have on what works for you physically, what you really love and brings you joy and what fits with your lifestyle and personality as far as the colours and styles of clothes go, the better your choices will be. This is why I developed my 7 Steps to Style program as it gives you all the information you need to start making better decisions as well as gives you the confidence and knowledge you need to improve and claim your own style.
When you make great choices, your impact on the planet is smaller. You're not returning items that don't work (and sometimes these can't be resold and are then turned into waste) and you're not filling your own space with garments that don't work and become clutter for your emotional health as well as your physical space.
You deserve better than 'Good Enough'
There is no point in spending a whole lot of money on clothes that you're not going to love in the long term and that aren't going to love you back.
There is no point in buying something that doesn't tick your boxes, that isn't representative of your style recipe, and that fits poorly.
There is no point in filling your wardrobe with crap – those pieces that don't tick all your boxes.
You deserve the wardrobe of your dreams? Read part 1 of a multi-part series on how to have a wardrobe full of clothes you love and they love you right back
The best wardrobes are generally built up slowly over time as you stumble across fabulous pieces that you love, that fit, that works for you and that are great. Keep your eyes open when you're out and about – that's often when you see the thing (not when you're looking specifically).
It's really a bit like music that is in-tune vs out-of -une, Wearing the colours that suit you – their value, their undertone and intensity is like listening to music that is in tune and harmonious, it's an enjoyable experience. Whilst if there is something unrelated about the colouring to you, it can be jarring like music that is out of tune.
Wanting to look stylish is not shallow or self-indulgent, it's a way to communicate your personality authentically. My 7 Steps to Style program is the equivalent of a colour, style, wardrobe and shopping consultation with me, a world-leading image expert, all wrapped up in a comprehensive and engaging program you can do at your own pace from the comfort of your own home.
Further Reading
How Do You Figure Out If You've Got a Warm or Cool Skin Undertone?
Getting Your Head Around Value and Contrast – the Celebrity Version
Style Rules for Building a Wardrobe of Classic Staples When You Have a Light Ideal Value
4 Expert Tips To Move Away From Wearing All Darks to Lighter Colours