Reader Question: I am magpie shopper and just pick up clothing and accessories I like but I end up without complete outfits and lots of wardrobe orphans. How do I create a cohesive wardrobe?
Being a magpie shopper is great if you are careful! It's a gathering style shopping that is often more about the experience and often not about looking for anything in particular. You go shopping, they look around, let items grab your attention, and are often shopping with emotions as the decision-maker.
A gatherer is more open to opportunities. You want to be inspired by what you see.
Beware, gatherers get into trouble easily if you have the feeling that you have to take something home (because you spent time and effort going shopping to start with and feel like you need to have something to prove your time was well spent), and will buy the wrong thing or just anything.
As a magpie shopper, you may be drawn to shiny objects and this is where you can end up with a wardrobe of heroes (that are actually wardrobe orphans) and lack the basics or other less exciting garments that would make those heroes the stars of many great outfits.
Here are four tips for creating a cohesive wardrobe….
1. Understand Your Style Foundations
Developing personal style becomes difficult to do when you are working with a pre-existing wardrobe full of individual pieces that you're not certain pair together with other hero pieces in a cohesive way. You have to work out what you want your style to be before you buy the clothes. Just as a home (or any building) needs strong foundations, so does your style. Your foundations come from your own set of style guidelines.
Your style foundations may include the guidelines you create around:
2. Develop a Style Recipe
To help you stop magpie shopping try nailing down your style recipe and then use it when shopping.
Your Style Recipe includes the ingredients that go into making up your unique style. In my opinion, it's one of the most useful tools anyone can have when developing their style. Creating your style recipe gives you a great framework to start playing with and exploring the personality dressing styles in a way that is right and true for you.
If you are curious about the ingredients of style recipes, some of the members on my private 7 Steps to Style group shared their style recipes and I think they provide some great inspiration.
I think of myself in some ways a bit of a magpie shopper for me because I don't need a lot. When I see something that I really like I buy it but because I only buy colours that work with me that will work with the rest of my wardrobe. I'm a magpie shopper who has the style and colour education, plus knows her wardrobe gaps plus what she already has in her wardrobe (so no buying duplicates) and can see when I stumble across something amazing how I'll be able to wear it multiple ways with lots of my existing wardrobe.
3. Know Your Best Colours
Your palette of colours is made up of colours that have similar colour properties and because of this – they work together beautifully and easily, allowing you to be the artist as you try different combinations with confidence, knowing that those colours are meant to go together.
Having a personal colour analysis and getting your colour palette so you can go out and go shopping with it you'll start to create a wardrobe that easily mixes and matches which allows you with fewer items to create more outfits. Now that's what I call a win! Plus it will stop you from buying a bunch of orphans that don't work colourwise with the other clothes in your wardrobe.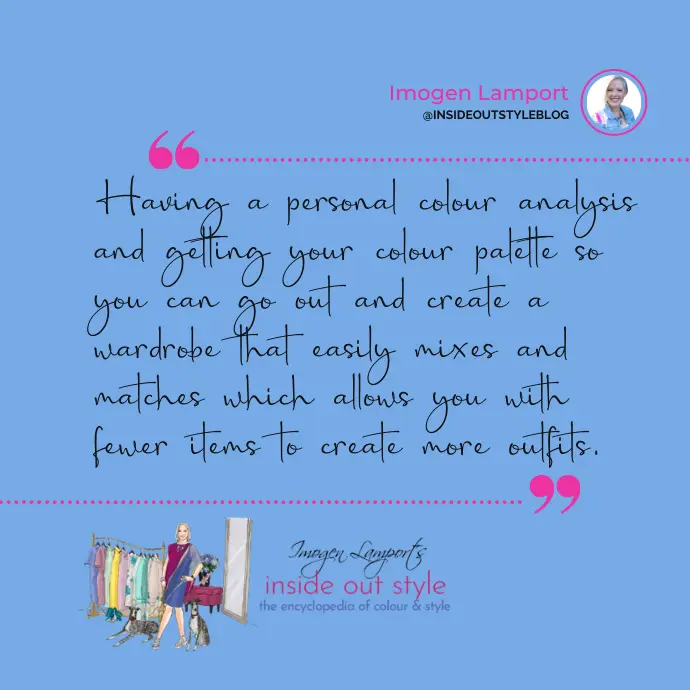 Over time as you add additional items to your wardrobe, with each extra garment your outfit options will expand exponentially – plus you won't have those colours that can only be worn in one way with one garment, making them limited in their appeal
I can choose your best colour palette as part of my 7 Steps to Style program or online if you can't come and see me in person in Melbourne.
4. Organise and Shop Your Wardrobe
The next step to building a cohesive wardrobe is to know what you have. Organise your wardrobe so that it's easy to find what you have and see it. If you've got stuff stashed at the back of your wardrobe, then you've got no idea what you've got. Read this post for tips on wardrobe organisation.
Once you've got an organised wardrobe you can see what you actually have. This is particularly easy when you organise by colour and type of garment. The combinations start to reveal themselves and you can begin to create outfits.
Once you've figured out what works with what and created outfits, you may notice that you can't layer some pieces and that you need to purchase a jacket, cardigan or sweater to give you these options.
Keep a pen and paper handy in your wardrobe to keep creating your wardrobe shopping list – every time you get dressed and think "I wish I had a xxxx" write that garment down, and you know that it will fill an important hole in your wardrobe.
Now you have a wardrobe shopping list – take this with you every time you shop – you won't necessarily find what you want the first time, but if it's on your list it will focus you on what you need.
Sign up now and receive free my ebook Your 5 Step Formula for a Fabulous Wardrobe and start your style journey!
In this free ebook, I cover:
Organising Your Wardrobe
Creating Wardrobe Capsules
Creating Effective Shopping Lists
It's a short and handy style guide that you can put into action right now!
Further Reading
9 Ways Knowing Your Best Colours Will Change Your Life as Well as Your Wardrobe
Developing Your Style Recipe – Tips and Tricks from the Professional
How to Build Your Personal Style Home From the Foundations Up