Many of my long term readers and clients have met or virtually met my dog Cleo over the years. She sits next to me in the banner on this blog and spent her days in my office nudging me every few hours, knocking my hand off the keyboard requesting attention (and frequently a treat from the tin on my desk too). She'd sometimes photobomb me as I'd take my outfit photos. There is a beige colour chip called Cleo after her in one of my colour swatches (colour naming is arbitrary and it's my colour system so I get to name all the hundreds and hundreds and hundreds of colours).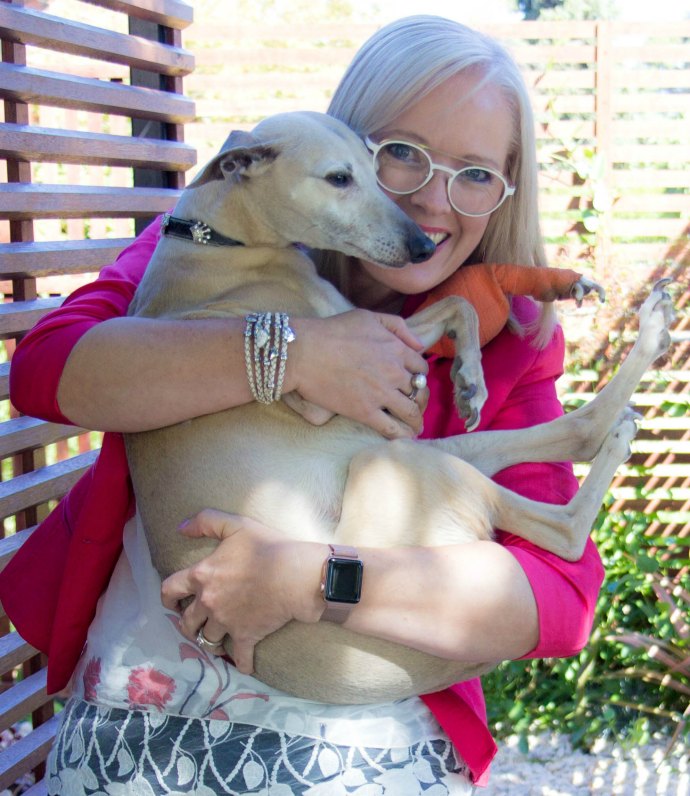 This past weekend has been heartbreaking for me. 5 years ago Cleo was diagnosed with cancer on one of her legs, and we had it operated on 3 times, having it removed, but because of where it was located they couldn't get the whole thing, and it grew back again and again. Over these last couple of years she'd also developed a cough, secondary lung cancer, and as the cancer on her leg grew and grew to a point where the skin could no longer hold it in any longer and we knew it was the right time to say goodbye. We were lucky to have had this time with her. The vet's prognosis 18 months ago was that she'd be unlikely to make even another 12 months, so we got at least a bonus 6 months with her on what we expected.
Cleo was the fourth whippet I've owned in my life. The first one Binker, appeared as a stray puppy, beaten and starved when I was just 17. All my whippets have been rescues, and some have come with issues because of their life, prior to joining my family. Some of you may remember when Cleo went missing in Canberra for 12 days back in 2012, that experience gave her PTSD, and she would no longer leave the house and go for walks after that. But our house was her haven and she was always so happy to be here with us.
When the vet asked me on Saturday why I had chosen whippets, I told him that the first one chose me, and then I realised that our personalities just fit together so well. Whippets are quiet and loving, are either full speed running or total couch potatoes, like some attention and then happy to be an observer and don't require much in the way of grooming (no need for regular clipping of their fur!).
Such a gentle loving dog who brought so much joy and love to my life. Cleo has been my whippet-shaped shadow over the past 11 years, and leaves a whippet-shaped hole in my heart.
Vale Cleo you beautiful girl.
Cleo Photobombs
A Week in the Life of this Personal Stylist and Style Blogger
No More Muffin Top – Roadtesting the Belly Bandit Mother Tucker Shapewear Tank