Would you be able to make a post about what kinds of alterations are easy and affordable to make? I'm not plus sized but I'm petite, so many things don't fit. Having hemlines shortened is an easy one, but I've understood that for instance the extra space in the upper back could be taken in by adding/taking in the vertical seams. The problem is that I have no idea about sewing or patterning, so it's impossible for me (and I believe many others) to figure out which alterations are easy and which will involve serious re-sewing.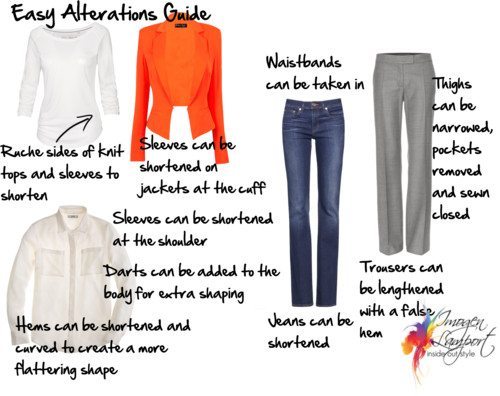 Here are a few ideas on what you can do to improve the fit of your clothing.
Plus think about:
Having the sleeves taken in if they are wide. A slimmer sleeve will suit a more petite figure as extra fabric is not your friend.
If you have a flat bottom, take in the rise seam at the back of your trousers if they bag under the bottom (there is only so much you can do here).
If you have slim thighs you can have the side seams of your trousers and skirts taken in if there is extra fabric there (they can start looking like jodpurs!)
Add in darts to your clothing for extra shaping – when thinking about having clothing altered, often more smaller alterations will create a better fit (taking in not only side seams but adding darts), than just taking in at the existing seams.
Take up a garment from the shoulders – particularly if the armholes are deep, this will often make the top/dress look and sit better on you.
If your trouser or skirt pockets at the hip bulge open, have the pocket sewn closed and the pocket fabric removed for a sleeker line.
What are your most common alterations?
Which alterations make the biggest different to the fit of your garments?