What are the patterns in your wardrobe? What do you have lots of? What do you have little of? Spending some time looking inside your wardrobe and noticing the patterns can really help you define your style, what you do and don't love, what does and doesn't work for your body shape. Discover my 3 step process to discovering the patterns in your wardrobe.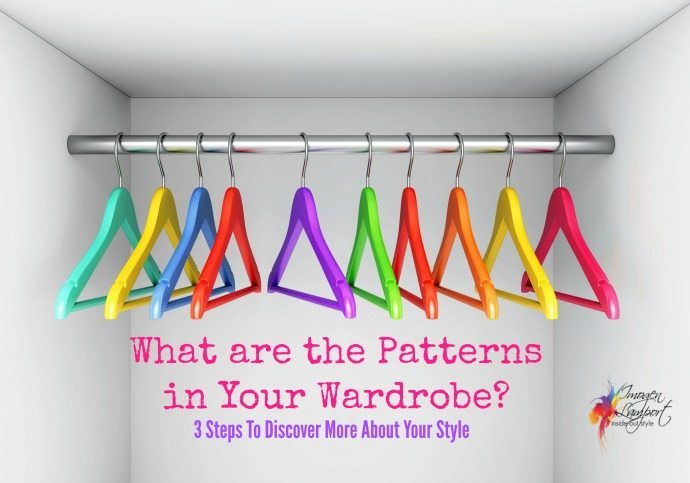 1. Organise
Firstly you will need to organise your wardrobe if you haven't already. I've got some great tips in my free ebook Your 5 Step Formula for a Fabulous Wardrobe on a Budget (which you can download from here).
Without an organised wardrobe you won't see your patterns. You need to organise your clothing and accessories into groups – tops, bottoms, dresses etc and by colour going through the rainbow, it really does make it so much easier to see what you do have and to create outfits and mix and match.
2. Outfits
Secondly, you may want to start photographing your outfits or noting down what you wear – particularly those favourite outfits. You can download my new Weekly Wardrobe Outfit Planner which is printable and helps you track these outfits.
Having photos of your outfits or knowing what you put together will start giving you an idea of what you do wear, what you like and what you are comfortable wearing. You will start to see patterns emerge as you look for commonalities in your outfits. Hate taking pics? Here are my tips on how to pose for photographs to help!
An example of this on the blog would be all the blog posts I write about My Style. It's only when I am going through the photos I take of my outfits that I really notice some of my own patterns such as:
Notice if you wear similar kinds of garments, just in different colours – maybe it's jackets, or jeans, or a particular pattern or style of clothing that repeats in your wardrobe. Look for and note down all the elements that you reach for over and over, those ones you love (not because of laziness or any other reason!).
Take note of the shapes of clothes that seem to suit you best – that you feel flatter you the most too. You may want to read up on body shapes, proportions and variations as well. Consider the scale of accessories and details as this too will influence what does and doesn't work.
3. Research
Thirdly it's time to go window shopping either in the stores or on Pinterest or through a retailers online shop. This is not the time to buy, but to just notice what you are attracted to, and what you are repulsed by. I want to to start a list and note down the elements of garments that you love, and those things that you would just "never wear". Here is an example – and of course your list should be much longer than this one!

Try and note down every little thing you notice that you are attracted to and what the opposite of that is, what you dislike.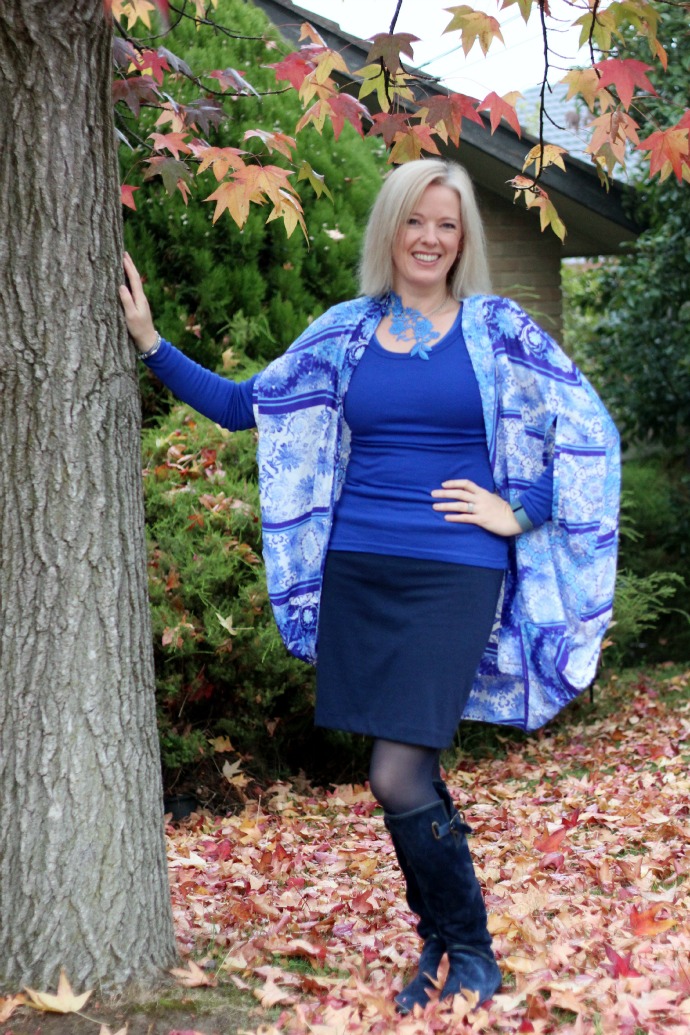 For example, if I just looked at this one photo and outfit and noted down what I like about it, it will give me lots of information about my personal style and patterns will emerge when I then compare to other outfits:
Knee high boots – flat – comfortable
Navy skirt – stretch fabric, slimming and comfortable
Navy opaque tights – warm and comfortable
Long sleeve merino knit – comfortable and warm, love the colour
Kimono top – blue and white (style crush), drapey fabric hides the back fat plus the pattern and scale make it a hero
Lace necklace – love the colour, love how it looks a little like a tattoo but is in fact very feminine. Unique and unusual
Colour blue is dominant – one of my signatures!
Now if you compare what I've written here about what I love in clothes and outfits, to the list of items that have ended up in a My Style blog post, you will see lots of cross overs!
So what are the patterns in your wardrobe? It's time to go find out and share here!