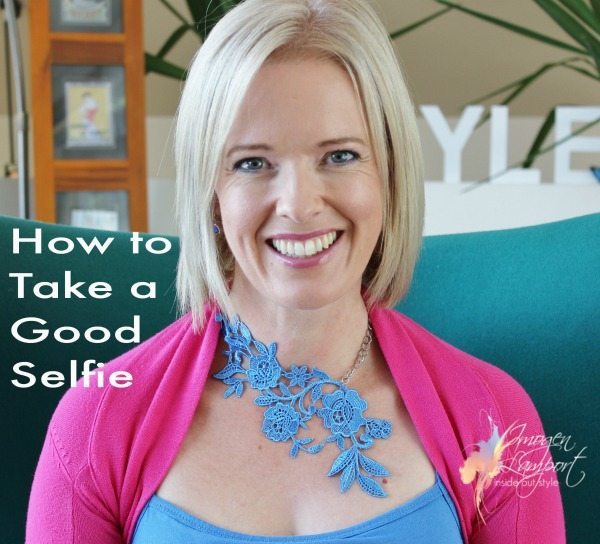 Following on from my post How to Take a Good Selfie Photo – The Technology you need, now I'm going to share with you my top tips for finding a flattering pose for that photo!
You may remember from this post on how to pose for photos I went through a few of these tips.  But as a reminder here, taking a good photo is all about creating gaps and angles.  It's important to remember what is closest to the camera looks larger – and the camera lens can really magnify, so even a subtle shift of weight or changing of an angle can make a huge difference.

Now don't forget to try different poses and have some fun. You may be surprised to discover what works for you.
So those angles, they also work when you're taking a close up – think about angling your head!  Remember that most people when a camera is thrust in their face automatically pull in their chin (it's a defense mechanism) but what does this do?  Create nasty double chins!  So instead, I want you to lift your head up then imagine you are looking over a fence that's just a little taller than how you stand naturally, sticking your neck out a touch as you go.  Now, no more double chins!

If you're like me and suffer from the affliction of "resting bitch face" (I can't tell you how many times I've been asked in my life to "cheer up it's not so bad!" as I'm minding my own business lost in thought walking down the street) I know that for me, smiling in photos is the way to go.  In fact, I don't just smile a bit, I try and grin and often even force out a laugh.  Do you know why? Well it makes my smiles look genuine and from the eyes as well as the mouth!
Have you ever noticed that celebrities are often photographed on many red carpets in the same pose?  Well it's because they've spent time trying out poses in the mirror and taking photos and they know what works for them.  Give it a go, take a few selfies and discover your no fail moves to a flattering photo!