Do you have any blog posts on how to wear the black items in your wardrobe when your value contrast is low or medium and you don't want to wear all neutrals/all black? I don't want to part with all of those clothes as I still like them. I found a few posts about wearing black but not anything that showed how to do this specifically.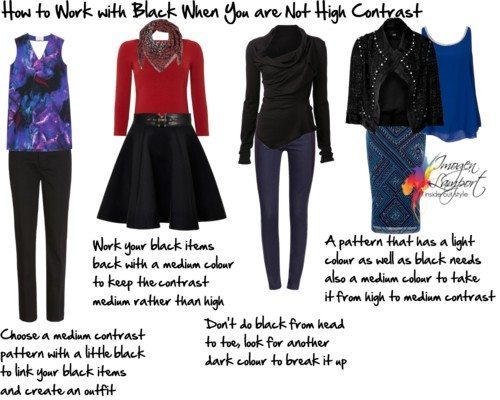 Here are my tips if you have a low or medium contrast:
Find a pattern that has a small amount of black in it, that is low/medium contrast which works back with your black items.
Wear it with a medium value colour rather than a light colour to keep the contrast medium rather than high.
Match your black pieces with other dark colours such as navy, burgundy, forest or olive green or aubergine so that they don't create too much contrast, but also so you're not wearing head to toe black.
A pattern that has both light and dark colours but also a medium colour will only read as a medium contrast.
Here are some other tips:
3 Simple Steps for Wearing Black When You Have Light Colouring