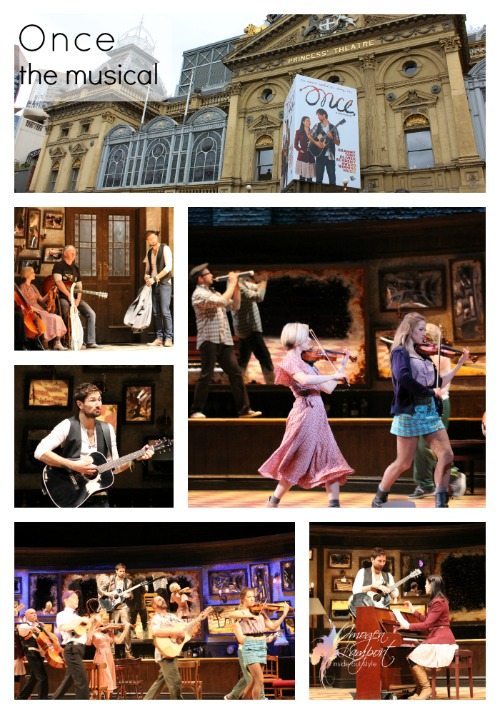 Sponsored by Nuffnang
I've always loved the theatre and music (here's a small fact you probably didn't know about me, I played violin and viola in orchestras from the age of 10 to 18ish), and I've been around music and stages for a long time.  One of my favourite experiences was playing in the orchestra for a production of West Side Story where the musicians sit in the pit with a huge score to play (why this matters will become apparent soon).  So I was really excited to be invited along to the opening night of the Tony Award winning musical Once (bet you've never heard of it, but I predict it will be a hit here, as it has in London where it has played to packed houses in the West End since last year.
A sell-out since making its world premiere on Broadway in January 2012, ONCE won eight Tony Awards, including Best Musical, Best Book and Best Direction. It was also named Best Musical by the Drama Desk Awards and the New York Drama Critics Circle and won a Grammy Award for Best Musical Theater Album.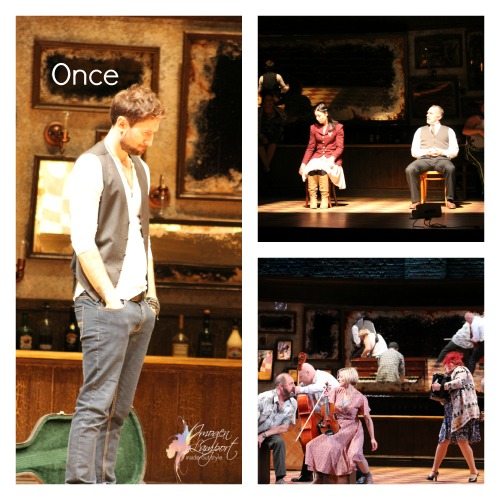 If that's not recommendation enough then consider this as well; based on the Irish film of the same name in 2006, it won an Oscar for Best Song ("Falling Slowly"). This emotionally captivating musical is the only show to have music that won the Academy Award®, Grammy Award®, Olivier Award and Tony Award® and I bet you know it already (you just didn't know where it was from). Here is a recording of the Australian cast performing it.
It's a beautiful song and all the performers have to be able to sing, act and play an instrument (I've never seen a musical like it) so the talent pool here is very high!   Having the ability to play and sing the music, as well as move and act while doing it, really shows a high skill level (pretty sure the ability to memorise all the music and play, sing, act and move all at the same time would be beyond me).  To give you a flavor of their superb abilities, here is a short excerpt from the song Gold
Set in modern day Dublin, ONCE is the story of a Guy (played by Tom Parsons) who gave up on his music and his love and the Girl (played by Madeleine Jones) who inspired him to dream again.   I'm not going to give away more of the story than that, except to say it's not over til the 'fat man with the fat cigar' puts pen to paper.

Director John Tiffany described this production as "an acoustic musical that has to breathe and grow like a tree", so it's a different production than any that have been shown around the world before because of the abilities and talents of our local cast.  As he said, "Changes have been made to reflect the brilliance of the actors in this version".
Given that this wasn't a production I'd ever been aware of, nor had any knowledge of the music (except having heard Falling Slowly on the radio) I wasn't sure what it would be like.  It's not a big production number musical (like Les Miserables or Phantom of the Opera), but it's a really lovely, inspirational story of hope and love that resonates universally and could be set anywhere in the world. The stage is set as an Irish pub, and even though the action takes place in different locations, you are being told a great yarn over a Guinness or two (and in fact before the show starts and during the interval you can pop up onto the stage and buy yourself a drink as they set up a real bar there!  Just make sure you book early so you can get a ticket for the Stalls).

The performances are all outstanding and the music weaves through the performance leaving you with tunes revolving around your head for days afterwards.   ONCE is both funny and poignant, with lots of laughs along the way, and definitely appealing to women and men, so a fabulous date night event.   I highly recommended this musical for both young and old (and all of us in between). It will become a new favourite musical pretty soon here too I'm sure!  Don't miss this unique musical theatre event, it's unlike anything you've ever seen before.
It's playing at the Princess Theatre in Melbourne with tickets selling through to 31 December right now (new seats have just been made available from 2 December). You can get your tickets for ONCE here right now.