I have a question which is around knowing which pieces will make a real difference to my wardrobe- most mistakes I make – apart from buying clothes for a fantasy life- are buying 'sensible" pieces, as in good quality, items that will " be useful' but are dull. And realising that it is easier for me to buy tops than bottoms so I have a lot of tops.
Being a Soft Cool and Light colouring I have bought a lot of grey rather than black as a basic. This is fine, but it can be a bit dreary. I like to wear trousers or jeans and the one colour column approach works well as I have a biggish bust and have put on a bit of weight- now an H I think, but then that leaves me with only scarves, necklace or earrings in more of my best colours.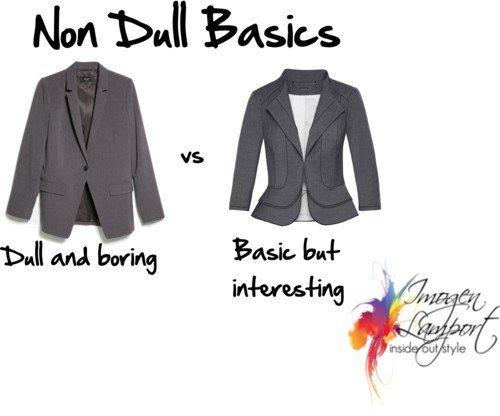 Basics are an important part of your wardrobe. You need some supporting acts to make your heroes shine. But they don't have to be completely dull and boring. We need a good set of basics that work with our more fun pieces. Having a colour swatch will make it way easier, but you don't have to have a wardrobe of grey (or black, or camel or whatever colour is your great neutral) to have an interesting wardrobe.
It sounds like you have too many basic tops in neutrals, rather than colours, and that your tops are too basic, rather than looking for a little detail on the top to take it out of the boring zone.
When we find one part of our body harder to dress, then we tend to avoid trying to find it, and that definitely makes dressing harder as we don't have options. When that is your bottom half, that can make it truly tricky. You don't need as many bottoms as tops (because we don't wash them as often), but you need to have a few to create your outfits.
In general, unless you like your bottom half to be your focal area, I'd look for bottoms in neutrals overall (apart from a few hero pieces). Avoid buying tops that are completely plain, unless you are happy to always dress them up with scarves and jewellery (and it's fine if you do, but if you tend to not accessorize, avoid tops that are too basic and dull).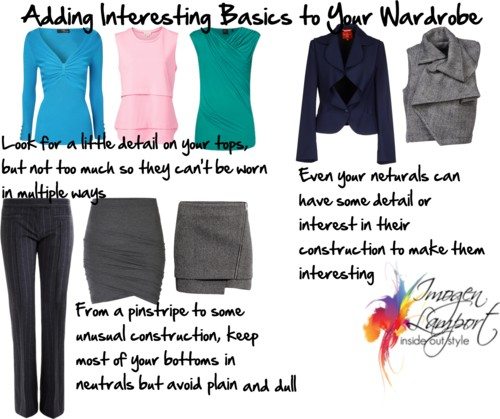 Look for garments with some detail in construction, not too much embellishment, otherwise it's hard to accessorize, but a little of something different will go a long way to making your outfit more exciting.