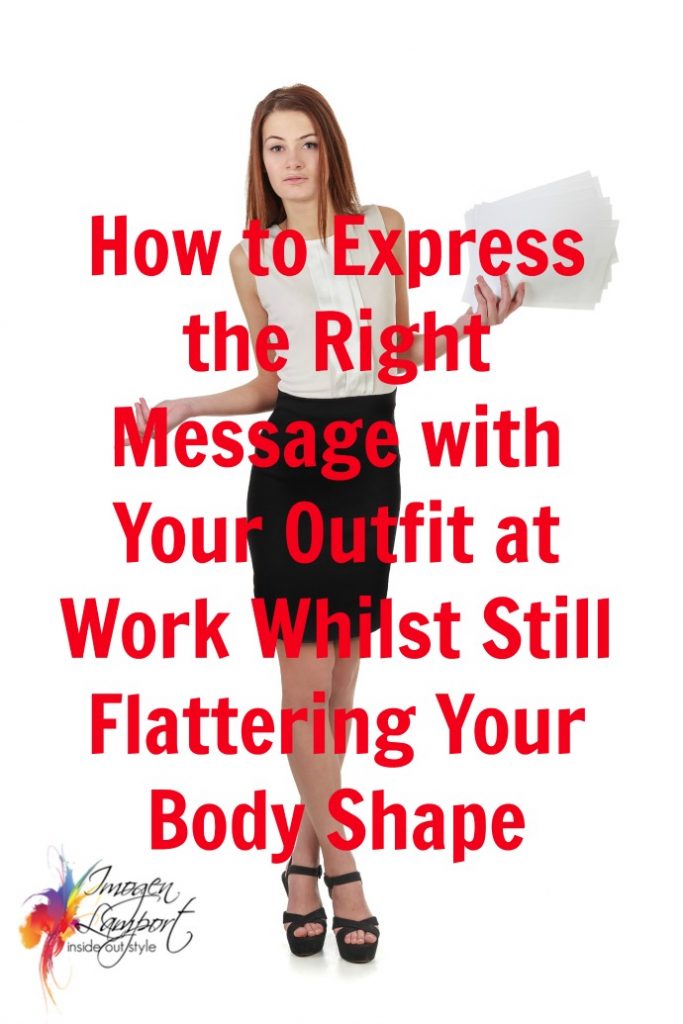 How should we handle conflict between personality/ career role and body shape recommendation?
As my body is very curvy , the body shape recommendation is all kinds of feminine stuff: skirt over pants, and not just skirt , but A -line flared skirt over straight ones, wrap and fit and flare dresses , waist shaping, waist emphasising, soft material with drape etc. All those things do look good on me, and accentuate my curves, but do not fit my work personality which is more dramatic. I wore a fit and flare dress for date night the other day and I felt sexy and good, but that is not the look I want to have when I am discussing differential equations with university students.
I am a scientist/grad student in a predominantly male field. It is not the corporate world, and most profs wear sneakers, jeans or khakis with a collar shirt without tie or jacket. Still because it is a male dominant field, wearing feminine stuff like fit and flare dress feels a bit out of place.
So how can I resolve these conflicts?
Style conflicts can require a little thought to figure out and this is an interesting question to consider when dressing for different environments.
What influences the clothes you choose?
Personality
Occasion
Body Shape/Proportions/Variations/Scale etc.
Colouring and Contrast
Now we may find that some elements of dress really suit one of these factors but works less well with the others.
So in this instance:
Body shape – which is very curvy and feminine, is not so appropriate in the readers workplace. But all body shapes can choose to wear trousers/jeans/pants or skirts/dresses. You are not limited to choosing one over the other.
Personality – which is dramatic does work in the workplace
Colouring and contrast – not mentioned, can be used to create a stronger more yang (authoritative message) which can balance out the natural yin (feminine/approachable) nature of the curvy body shape.
Occasion – work – serious, yang (strong and masculine environment), but you also may want to be approachable to the students so look for balance between the yin and yang.
What to Wear to Express Who You Are, Flatter Your Shape and Project The Right Message?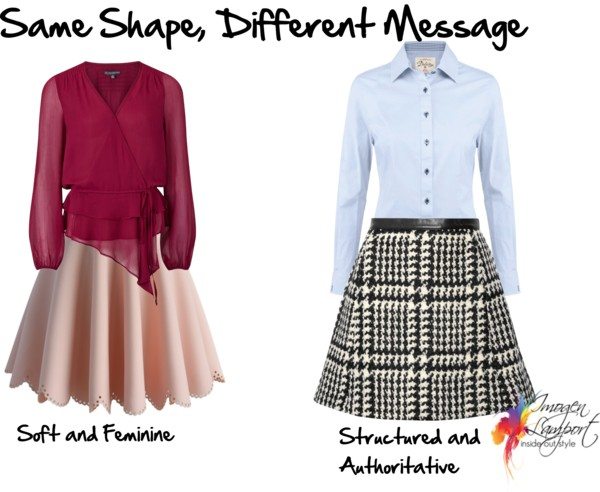 Here for example are two outfits that are both feminine in shape and would suit the A shape body, but are made from different fabrics. The one on the left is very soft and feminine, appropriate for a date, but not for work. The one on the right is made from more structured fabrics (though not overly stiff, which could still work for the body shape) and also worn in a high contrast, with a large scale pattern (for that dramatic and yang personality) which would flatter the body shape, whilst still communicating an appropriate message for the workplace. Add flat knee high riding boots and opaque tights so you don't feel you're showing too much skin or dressing in a 'too sexy' manner. Wearing a collar always gives you a more professional appearance in your environment..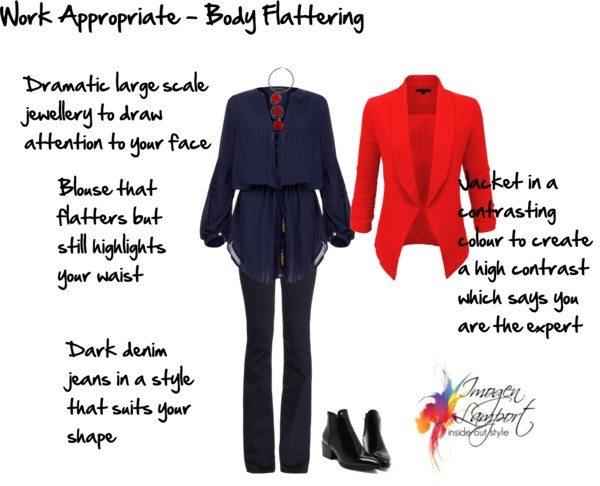 Look for dark denim (no distressing) in a shape that flatters (flares are great for A shapes).
Pair it with a blouse (yes it's soft but will flatter your shape and not draw too much attention to your bust and curves) in a similar colour – creating a column which will help to distract from your body. The belted blouse here flatters your shape without drawing unnecessary attention as it flows over your curves without highlighting in a 'sexy' manner.
Add a jacket (yes the men aren't wearing one, but they are wearing a collared shirt, so if you're not wearing a collared shirt add a jacket) – you could find one in a stretch for comfort, but a blazer or jacket of some sort will give you the authority and the structure you need for a work outfit (and set you apart from the students). Make your jacket and blouse a high contrast as it will be complimentary to your dramatic personality as well as creating a more authoritative appearance which you desire in the workplace.
How to Express the Right Message:
1.Remember with fabrics – Just because very soft fabrics work, you can also wear medium drape fabrics – you are not limited.
2. Remember with body shape – Just because the "body shape rules" indicate that one shape is preferable, doesn't mean you can't try other shapes – for instance you may find straight skirts work on you as well as a-line shapes. You could wear straighter shapes to work if you choose if you like them on your body.
3. Remember with contrast – you can raise or lower your ideal contrast level depending what you want to communicate. Higher contrast will be more authoritative, lower contrast more approachable.
4. Remember with personality – we are all a blend of personality styles and we can choose to amp up one aspect of it for work and another for home. We are not one dimensional beings who can't flex and change for the situation and occasion depending on what we want to communicate.
Don't forget, you are a woman, and everyone you work knows that. They don't expect you to dress like a man!
Further reading:
What to Wear at Work in a Hot and Humid Conservative Environment
Business Casual Dress Codes – What to Wear and What to Avoid
What to Wear When You Work in a Corporate Environment But Prefer a Relaxed Dressing Style