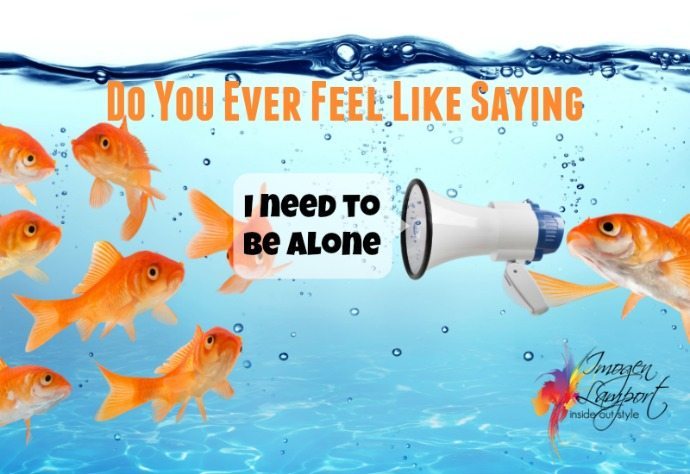 The other night I lost it while I was cooking dinner. My version of losing it isn't particularly scary, I just banged some pots and pans around in the kitchen and did some noisy washing up, but lost it for me, and I couldn't at the time really figure out why. I knew I was a bit tired, but that is not normally a reason for me to lose my cool. It wasn't until I awoke at 4am with my epiphany I realised why.
Image and style are more than just fashion and what you wear, which is what I write about most of the time. There is an ABC of image:
Appearance
Behaviour
Communication
and of course there are many crossovers between what our appearance communicates, what our behaviour communicates and how we choose to communicate using appearance and image which I talk about lots in my posts bout Yin and Yang and Personality Style.
Communication is an endlessly fascinating topic (in my book) and in fact, I have a Bachelor of Arts in Communication, so I've been studying the topic for a long time. The more I understand about communication styles and how we think, act and behave, as well as the personality aspects of communication the more it helps me understand my clients, friends, family and myself.
There are many different personality aspects that influence us and our communication styles, how we behave and feel. We may be introverts or extroverts (and I use these terms here in the Myers Briggs sense of how we gain energy from time alone, or time spent with people) and I know that I'm an introvert. What I know about myself is that I need time away from people to recoup my energy. It's not that I don't love spending time with people, but I can't do it all day every day without becoming exhausted. I remember when I used to be a publicist for Penguin Books and when I'd arrive home from a book tour I'd pretend sometimes to my friends that I was still away on tour so I could just spend a weekend by myself regaining my energy after having spent such an intense few days non-stop with an author (which I loved to do).
Now all the jobs I've been happiest doing include other people. It includes you, my wonderful readers, it includes my personal styling clients, it includes my fabulous personal stylist and colour analysis training students and I'm really happy to have you all in my life. My work is what I'd call "Others Focused". I love to help you look and feel great, that inspires me and gives me great satisfaction.
Yet as an introvert I need to spend some quality time with myself away from everyone (and that includes my family too). So when I spat the dummy (cos there were too many dishes in the sink from the icecream making my husband had been doing with his 5 year old son, when I needed to drain a big pot of pasta) and I've spent the past 3 weeks training students (6 days a week) and then had family time all long weekend with all 5 kids (the youngest who is 5 follows me everywhere and wants to engage in constant conversation with me) my energy was gone, I had none left in me to behave in a calm manner.
My 4am epiphany was that all that "others focus" of the past 3 weeks had left me depleted of any energy. Normally after I've finished training I schedule a few days off, but this time I had no time to do so and had clients booked every day. And then the weekend came but there was still no time for me to get away or just spend time by myself. I realised that often when I'm starting to feel this way I make an "emergency trip" to the supermarket for that essential item that dinner could not be made without. And it's actually about getting 30 minutes to myself, with nobody talking to me or wanting something from me. I don't have to be "on". I can switch off. I don't engage the checkout-chick with conversation. I smile and pay but that's as much as I'm able to communicate with the little energy I have left.
So with this realisation as an introvert who spends a lot of time focusing on others (and having to worry about all those "others" who are my family who want my attention) I need to make sure that I ask for "me time" before I get to the snappy snapping point. It's why I hardly call my friends. Not because I don't love them, but because so often my energy has been used up that day on my work and family and I just don't want to talk to anyone else (I'm not one of those women who constantly has the phone strapped to her ear).
I do love to see people, spend time with people and see my friends. I just need to pace it out and give myself breathing and alone-time, to space it out so that I'm not exhausting myself mentally. It's a lie that introverts don't like spending time with people, we love them. It's just we don't want to spend every hour of every day with people and need time to ourselves. We can't always be "on". We are not snobs or think that we are too good (which is often the comment I've heard from extroverts about why introverts don't necessarily contribute to the conversation or go out of their way to talk to people they don't or barely know), it's just that we have to turn use more energy to engage and know that the amount of energy we have is finite and we need to recharge by not engaging with other people.
This is why I make sure that I don't spend my weekend working, I have to have time to recoup (and I get lots of requests to work weekends cos that is everyone else's time off and most people don't think about this being "work" to me). Also, if I do work on a weekend, I'm terrible at taking time off during the week (I just can't force myself to do it). It's why I also avoid the computer otherwise I'd work all the time and burn myself out.
Interestingly when I've been at AICI conference sessions where the topic of extroversion and introversion come up, and we have to split ourselves into two groups, there are way more extrovert image consultants than introverts, which doesn't surprise me. But this does make me feel like I'm the odd one out in the crowd at times. I have often wished to be an extrovert as I feel life is easier when you are one.
Are you an extrovert in a career dominated by introverts? Or are you like me?