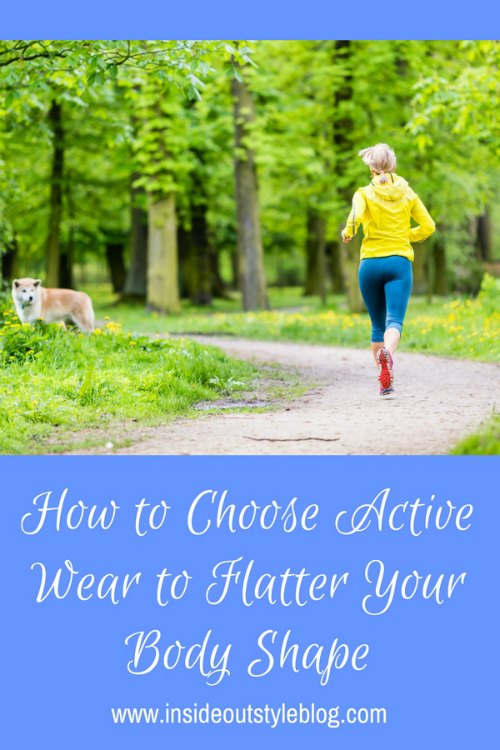 Choosing flattering activewear can be tricky as there is little room to hide as the fabrics are tight and revealing. So how do you choose what to wear to flatter your figure?
Given that most of us are not natural athletes or models, here are my tips on how to choose exercise clothing that looks good.
How to Choose Active Wear
If you have a tummy
wear a column of colour keep your top the same colour as your bottom so that you don't create a focus on your tummy as the hem of the t-shirt blends with your exercise pant.
look for tops with a little ruching to disguise bumps
avoid sweatshirts with a band at the bottom which will make your tummy look larger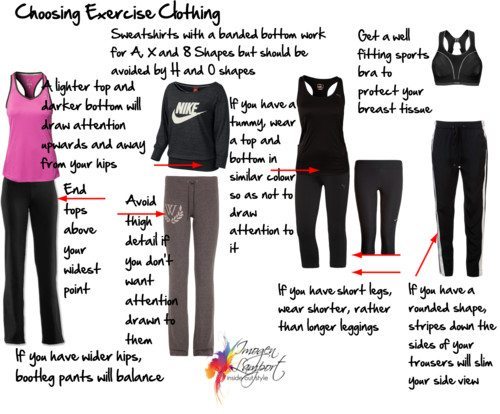 If you have larger hips
don't end your t-shirt at the widest point of your thighs, this will draw an unflattering and widening horizontal across it, instead, end your tops higher up closer to your hip bone where you are slimmer
bootleg pants will balance your wider hips
avoid detail on your upper thigh so as not to draw attention
a lighter top and darker bottom will draw attention upwards
If you have a large bust
ensure that you wear a supportive sports bra, not a crop top or the built in bra in many tops
a slightly lower neckline (not one that the girls will fall out of when you're in the downward dog though!) will flatter your bust without making it look larger
If you have a round body
look for an exercise pant with a vertical piped seam down the side in an alternate colour, this long vertical line will slim your legs.
If you have short legs
go for either a full length pant or one that end as the knee
avoid pants that end lower on the calf
blend your shoes to your pants, rather than wearing a stand out colour
wear the same coloured top as your pants to create an elongating column of colour