.
.
Did you know that we have a side view? Have you ever thought about it before?
Along with our front view/body shape, we also tend to have a side view that is either more round or elliptical.
Round people carry weight through their stomach or bottom. Elliptical people tend to be flatter and thinner from the side, but often broader from the front view. This is why if you've seen a magazine article with "all these women are the same size" yet when you look at the pictures, there appears to be a big difference – the diameters may be the same, but the shape is different.
If you are rounder when seen from the side, make sure you break the side of your body up with seams and other side details – a skirt with no side seams will make you appear bigger and broader.
If you are more elliptical, make sure you break up the front of your body up with vertical details such as seams and trouser creases, though you can wear skirts with no side seams.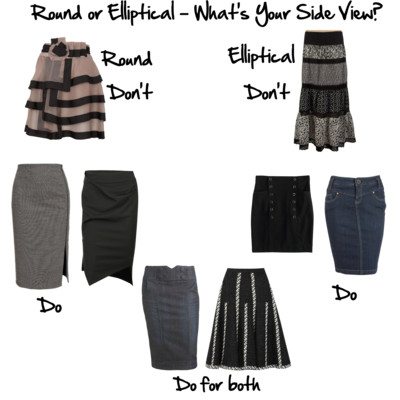 Round or Elliptical by imogenl featuring Dorothy Perkins