Did you know that we have a lateral body shape, as well as the regular "horizontal" body shape (what we call "body shape") and also a vertical body shape (also called body proportions).
Your lateral body shape is your body in profile or the side view.
Along with our front view/body shape, we also tend to have a side view that is either more round or elliptical.
Round lateral body shapes people carry weight through their stomach or bottom and the width of the lower body is similar in profile as it is in silhouette. They have a curved appearance from the side (in profile).
Elliptical people tend to be flatter and thinner from the side, but often broader from the front view. This is why if you've seen a magazine article with "all these women are the same size" yet when you look at the pictures, there appears to be a big difference – the diameters may be the same, but the shape is different and is one of the many reasons I don't use measurements as a guide when deciding on horizontal body shape (as the circumference measurement doesn't tell you what the silhouette looks like).
Round Lateral Body Shape
If you are rounder when seen from the side, make sure you break the side of your body up with seams and other side details – a skirt with no side seams will make you appear bigger and broader.
The round lateral body shape is more common on the O shape, X shape, 8 Shape and A Shape horizontal body shapes. Of course I have seen the H shape and V shape as rounded lateral body shapes as well!
Elliptical Lateral Body Shape
If you are more elliptical, make sure you break up the front of your body up with vertical details such as seams and trouser creases, though you can wear skirts with no side seams.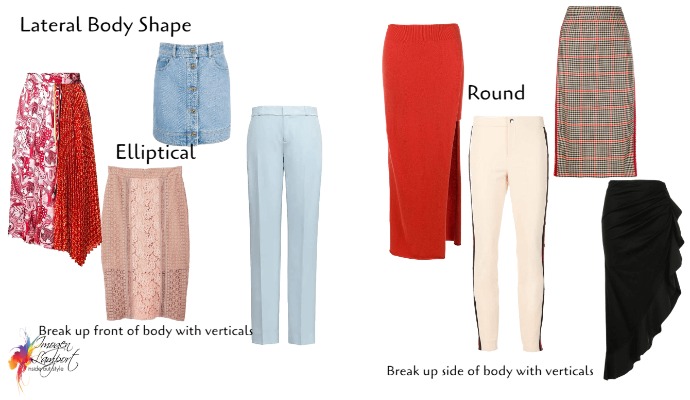 The H shape, V shape and I shape are most commonly elliptical, though I do know of A shapes and X shapes who are elliptical.
You can find out more about flattering your body shapes (lateral, vertical and horizontal) in my 7 Steps to Style program – plus discover your ideal colour palette and how to best wear them, figure out the influence of your personality on your clothing choices (from prints and patterns to accessories and clothing styles, fabrics and construction), along with how to wardrobe for you and your lifestyle. Find out more here.