Today I'm pleased to introduce you to San Diego and Los Angeles, California, based Kelly of Alterations Needed a fantastic resource for the petite woman. She is also the mastermind behind Fit Review – a new website that connects women to clothes that fit through community-sourced item reviews.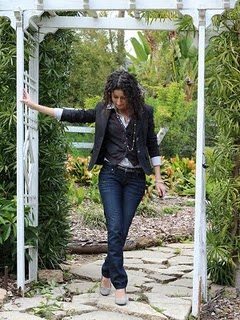 What is the secret to great style?
Great style is in the details. It can be attention to fit, fun color pairings, fabric mixing, or interesting accessories. Personally, my favorite is to see a bit of quirk and humor in a person's style. Having fun with your clothes is always stylish.
What is the one thing you would spend a lot of money on?
Being a special size, I'm obsessed with the idea of custom clothing, so I would spend a lot of money on getting something custom made that I can't find in stores in my size. Right now, that item is a custom made, menswear inspired three-piece suit in a beautiful grey cashmere. A girl can dream. 😉
What's the secret to looking polished?
Having your clothes tailored. At 4'11" tall, I have to tailor most clothing items I purchase. Because of this, I've developed an eye for ill-fitting garments, and have learned the miracles even the smallest of tweaks can make on the way a garment fits and looks. Every woman I know who always look polished takes her clothing to a tailor.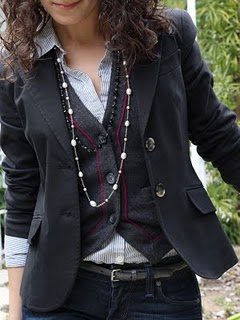 What is your current obsession?
Statement necklaces. I've always thought bold or chunky jewelry was out of the question for someone my size, but lately I've started exploring the possibilities. I really like how statement necklaces can chic-up an otherwise simple outfit.
The one piece of advice most women need but don't get?
Clothing in stores aren't manufactured to fit your body, they're manufactured to roughly fit thousands of bodies. It's no wonder so many women have melt-downs in fitting rooms. Finding a good tailor you trust to give your clothes those nips and tucks they need to fit your specific needs can be akin to a religious experience.
What is your favourite current trend?
Menswear for women! Before the whole menswear trend a few seasons ago, I couldn't really identify with any particular style. Once menswear hit the scene, I knew I'd found my sartorial soul-mate. I hope the trend never ends!
What's your favourite short cut to style?
A pair of dark denim jeans, with a plain t-shirt, and a blazer thrown over. Just add heels and a necklace or scarf. It's the easiest and quickest way to look polished.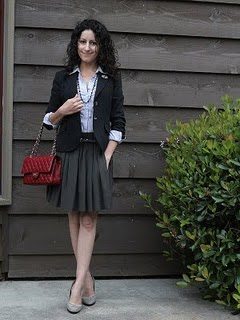 How would you describe your personal style?
I would describe my style as "Tomboy Chic". I was definitely a tomboy as a child, and it's stuck with me as I've gotten older. I love the sleek tailoring and interesting fabrics used in menswear, so I seek out the feminine versions of those pieces. I wear a lot of blazer jackets (I especially love tweed) with jeans, girlied up with fun heels and jewelry.