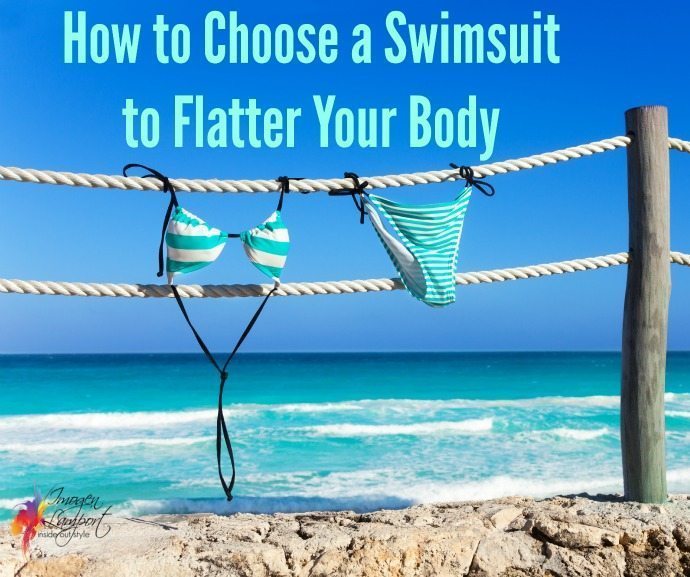 If you need to choose a new swim suit for this summer here are some options finding a pair of swimmers that flatters your body shape.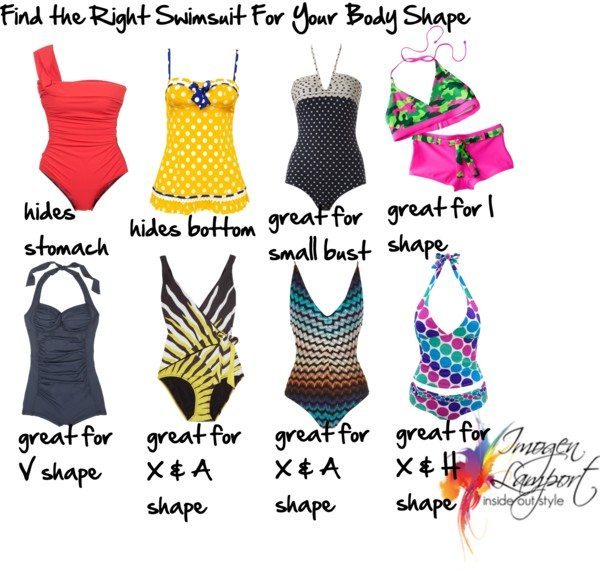 If you want to hide your stomach look for a suit that is either darker over the stomach area than either the bottom or chest area, or find one that has ruching through the stomach.
If you want to make your bottom look smaller look for a suit with either a darker bikini area or a skirted suit.
If you want to make your bust look fuller find a swimsuit with a top that is either lighter than the bottom, is patterned on the top, or has frills or flounces over the bust area.
Don't forget to highlight your assets, so if you have a waist enhance it with detail at the waist.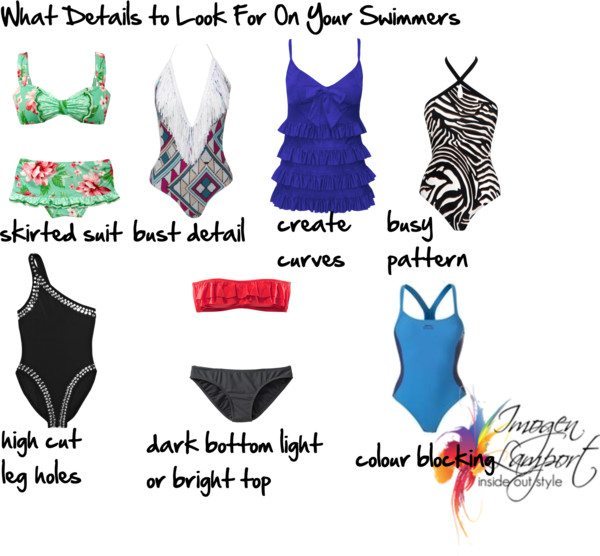 If you have a long body you may find that a tankini rather than one piece is easier to fit whilst still providing coverage.
High cut legs holes will make your legs look longer.
A busy print is distracting and can stop the eye from focusing on any particular part of your torso.
Create curves with horizontal detail and frill detail.
Clever colour blocking can help create the illusion of a waist
Finding the Right Swimsuit For Your Body Shape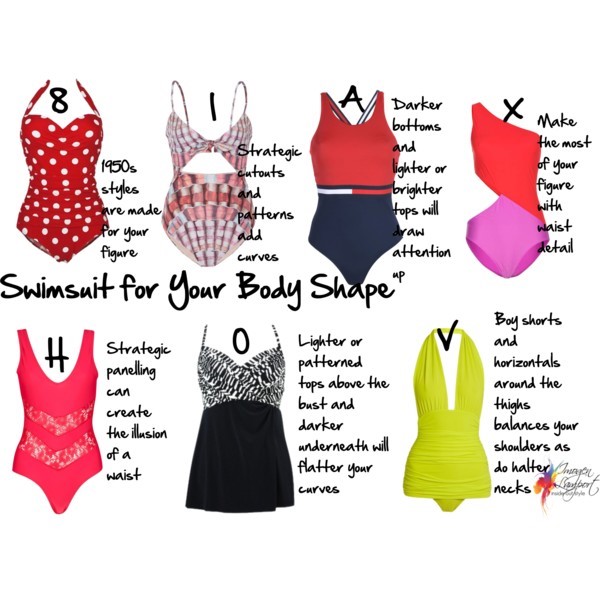 If you're not sure about your body shape, you can take my Body Shape Calculator Quiz and then download your Body Shape Bible, which gives you tips on how to dress your shape. Or if you'd like my professional opinion, you can do my 7 Steps to Style program which includes body shape analysis.

8 Shape – the 1950s shape is great for your figure. The high waisted bikini, the one piece with a sweetheart neckline. Highlight that lovely waist of yours in your choice.
I Shape – so many options for you. Strategic cutouts can give you the illusion of more curves. Patterns can add interest detail. Horizontal stripes work for you.
A Shape – darker bottoms and lighter or brighter tops will make your bottom less of a focus and pull attention upwards. Avoid halternecks which narrow your shoulders.
X Shape – highlight your naturally curvy and balanced figure with waist detail.
H Shape – Use panelling to create the illusion of a waist. Ruched one-pieces also work well to hide any tummy bulges.
O Shape – look for styles that have light, bright or patterned bikini top areas, with darker and plain torsos.
V Shape – balance your broader shoulders with horizontal details at the hips such as boy leg shorts, and then draw attention into your face with a halterneck.