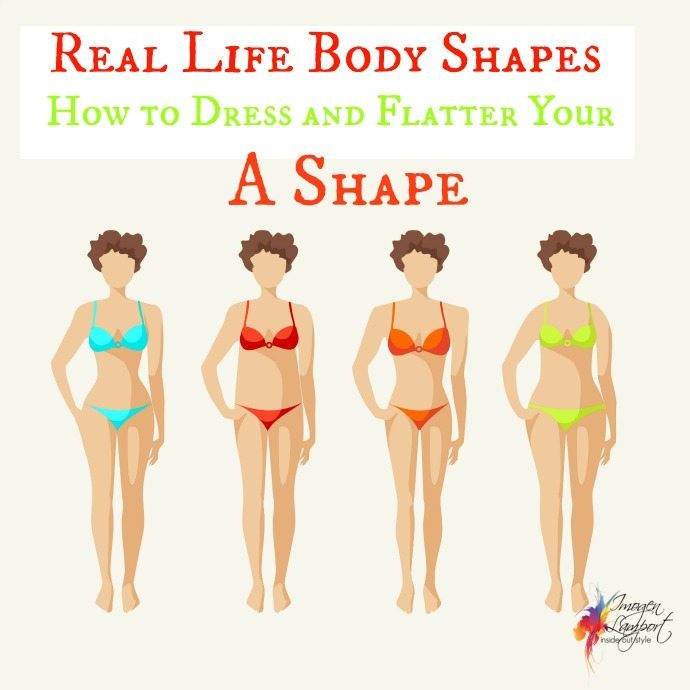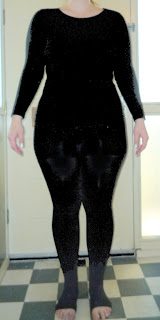 Today I have a couple of examples of A body shapes for you. You will notice that they can be more or less obvious, but that the low hip is where the widest point is (rather than the high hip of the 8 shape).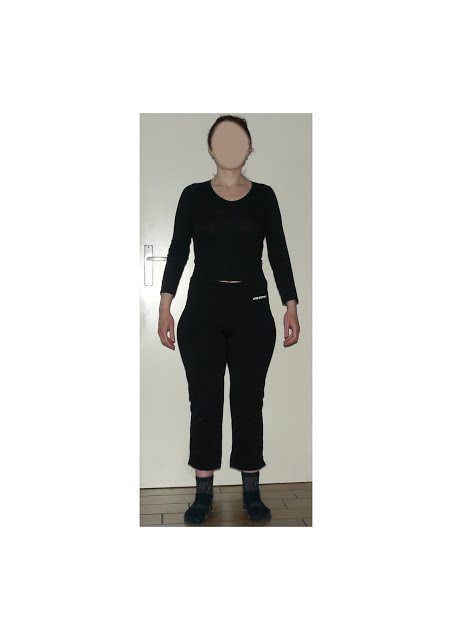 Their shoulders are narrower than their hips (shoulders are taken from the shoulder bone (not upper arm).
So what suits the A body shape?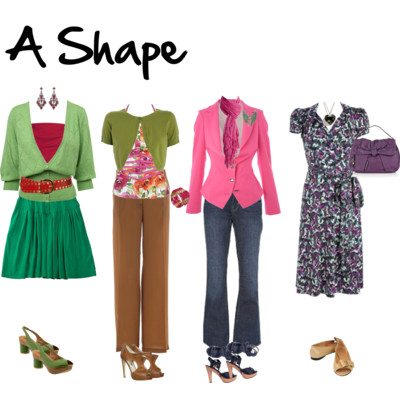 Draw attention to your upper body with pattern, brighter, lighter colours, jewellery, detail and other accessories like scarves and brooches work fabulously well.
Keep your bottom half in darker colours than your tops, and avoid detail like pockets on the hips and thighs whenever possible.
Go for waist definition – avoid anything that hangs straight off your shoulders right down to your hips, it will add lots of weight to your frame. Boxy garments like boyfriend jackets, long cardigans and tunics need to be belted to flatter your shape.
As long as they are cropped, trapeze jackets can work for you. Look for jackets with wide collars too as they will help to broaden your shoulders.
Look for tops that add width to your shoulders, like puffed sleeves, epaulettes, boat necks, ruched sleeves, square necklines. Set-n sleeves are much better for you than raglan or halthernecks. Shoulder pads are a must in jackets.
Bootleg and flared jeans are made for your shape, if you want to wear skinny jeans you will need to wear them with a longer tunic top that finishes a little above your knees. Knee high boots will also work well for you with this look. In temperate climates you can replace the jeans with leggings. Look for dark washes in denim, and avoid distressing and whiskering on the thighs and around the crotch.
You will often find it much easier to buy a skirt than a pair of pants as you'll often get pulling across the crotch in trousers. Skirt shapes that are flared – A line, gored, pleats or gathers on dropped waists are all flattering. Bias cuts are your worst, some will find straight skirts work for them, other As won't, you'll need to decide. Make sure they're in a dense fabric with some weight so it falls off your hips rather than clinging to them.
Wide waistbands may make trousers fit better, you will often find that you need to take in a waistband on trousers and jeans (and skirts).
Dresses like wrap and A-line styles are great on you.
If you like longer line jackets, make sure they go down to just above the knee (3/4 length) and are fitted and shaped.
Most importantly, keep your tops and jackets from ending around your low hip, horizontal lines at this area are most unflattering, instead, end tops and jackets at your high hip (hip bone) which will draw a much narrower horizontal line. You may think you're hiding your bottom and thighs, but in fact you're drawing more attention to them if you end the tops too long.
Your bottom half will need firmer fabrics, not stiff, but with enough weight to fall without clinging and hold in your thighs.
Cropped pants are not great for your shape, if you want to wear them wear shoes with heels to help elongate your legs.
Avoid pleats and gathers at your waist as they will add too much volume.
Busy patterns that have low negative space can really distract and flatter.
For more on A shapes look here.
A shape celebrities include Kate Winslet, Kirstie Alley and Kristin Davis