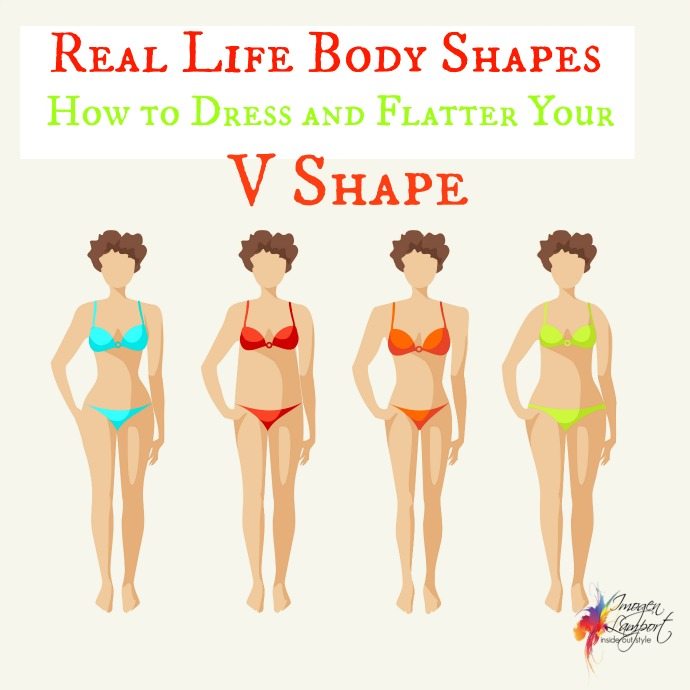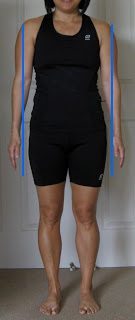 Here we have one version of a V body shape (inverted triangle) body. You will notice that her shoulders are broader than hips, but there is not a lot of curve through the body either.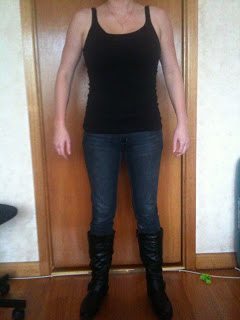 Some Vs are significantly wider than their hips, others are just a bit wider (like this example).
How to dress your V shape body: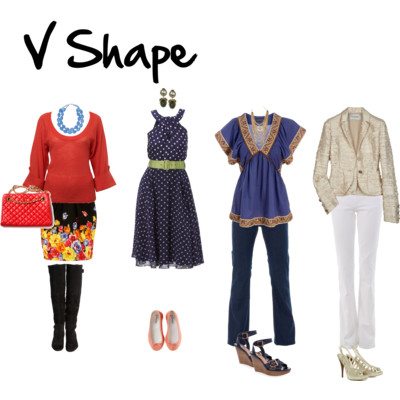 If you shoulders are significantly wider, avoid straight shaped skirts on your lower half, you need some flare to balance your hips. If you are only a bit wider you can wear straight, A-line and flared skirts all equally well.
Look for tops with raglan sleeves and dolmen sleeves that will de-emphasise your shoulders.
Avoid puffed sleeves and epaulets, any kind of shoulder detail will make you look like an American Football linebacker (I think that's the technically correct term).
Wide collars on shirts and jackets are not great.
Collarless jackets and those with modified collars, like the mandarin collar work well for you.
Avoid spaghetti straps – they just make your shoulders look broader – look for halter necks and wider straps on sleeveless garments. Often those cut in a little (racer back) are more flattering than straighter shapes.
Jeans can be straight, boot cut, skinny, wide leg, trouser cut.
Gathered necklines can work for you really well.
Depending on your chin/jaw shape, which influences your best necklines, look for Vs and Scoops, rather than Boat necks and Square necklines if you want to make you shoulders less prominent.
Also be aware of your neck length when choosing necklines, if you have a shorter neck (like my lovely model today) look for lower necklines to help elongate. If you have a long neck, and a smaller bust go for higher necklines like crew and turtlenecks.
Longer necklaces that fall to the bust or below can really work well on V shapes as it helps to create an elongating line down the front of your body.
If you are long waisted try belting. A tunic top that isn't fitted and just hangs off your shoulders may need some definition and a belt can make a difference here. Lower hip belts may work better than waist belts.
If you have narrow hips, try wearing slightly longer tops that end at the widest point of your hips, this will add more curve. If you don't want to draw attention to your hips go for tops that end just under your hip bone (the bone that juts out at the front below your waist).
Jackets can end at the hip bone or below. Generally cropped jackets will make you look more boxy and are better avoided. Boyfriend styles may work on your shape.
Shift dresses, shirt dresses and bias cut dresses can all be options for you.
Avoid fabrics on your upper body that are too floppy, especially if you tend to have a muscled appearance, go for fabrics with a bit more weight and structure.
If you have a small bust you can really rock the trapeze shape top. Also tops with layers of flounces or frills can really look great.
As you have broader shoulders than hips, you can easily wear coloured and patterned skirts, making your bottom half the focal point, rather than your top half.
Wear a darker top and lighter bottom to help balance your proportions.
If you have a flat butt, look for detail on jeans pockets, and pocket flaps on back pockets to give you more shape.
You may find that your pants always work themselves down during the day and you feel you have to hitch them up, a higher rise may help with this.
For more V shape tips check out this post.
Celebrities with your shape include Jennifer Garner, Demi Moore, Naomi Campbell and Rene Zellweger.