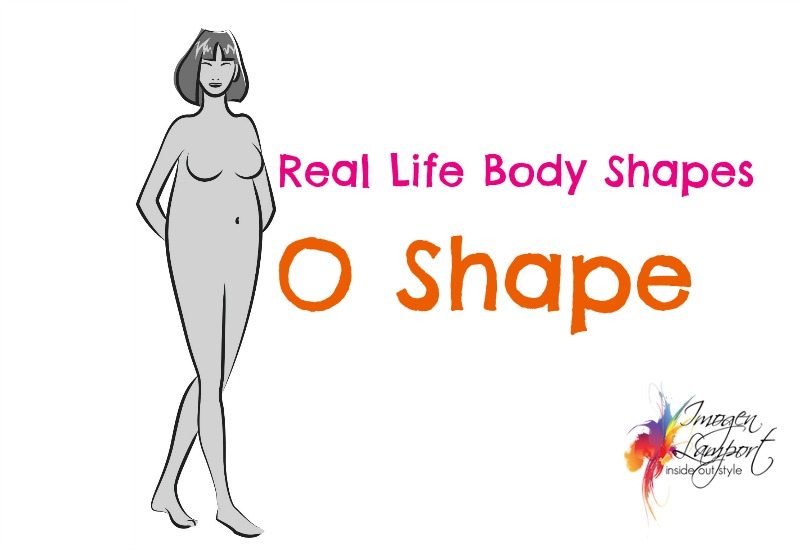 So finally to our Real Life O body shape.
When I was looking at these photos I got out my Trinny and Susannah The Body Shape Bibleto see how they had photographed, and I noticed that their models didn't have bras on! As I've repeatedly said, a well fitting bra can give you the illusion of more of a waist, so these photos are not as obvious as ones without bras would be.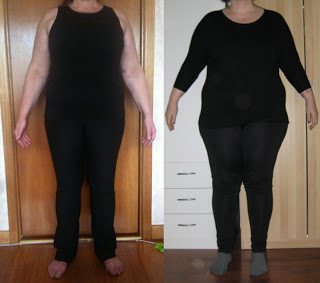 Here are two examples of Os, the one on the left used to be an X shape when she was slimmer, but now is carrying weight through the upper body, the one on the right may tend toward more of an A or 8 shape (though I'm really not sure).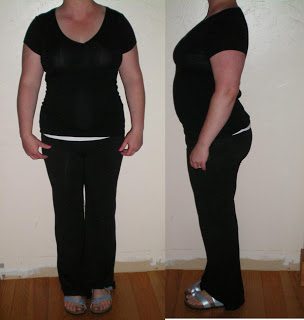 Here is a combination V and O shape – from the front we see she is top heavy and shoulders are broader than hips, from the side it's all O (she's had 5 kids, the last one less than a year ago), and she told me this was her sucking in her stomach and standing up straight. Again, see what a great bra can do for your figure.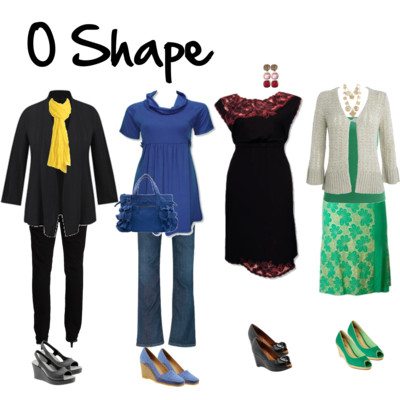 How to dress your O shape body:
You will find tops that drape past your body really make a difference. Anything that clings won't flatter.
If you feel you need to put a horizontal line on your body, make sure it's in the empire position (just underneath your bust) rather than at your waist. If the fabric is at all stiff make sure there are no gathers under the bust as you will get asked about when the baby is due.
Layering is your friend, a dark top underneath a lighter (than the top) jacket or cardigan will help make your stomach disappear.
Use that column of colour to create the longest vertical line you can.
Create focal points around your face, rather than through your mid-section
Ruching is your friend. Ruching in a top can help to hide a myriad of secrets.
Tunics can work really well with skinny jeans on your body shape, especially if you have great legs. Tuck your skinny jeans into knee high boots to balance your upper body.
Patterns (especially when dense and low negative space) can help to keep the eye moving and not draw attention to your body.
Look for fabrics that don't have too much bulk, but also those that skim, without clinging, too much lycra in a garment won't be flattering.
Single breasted jackets are best for you. A wider collar can help draw attention up and out.
Avoid cropped jackets, you will find jackets that fall no shorter than the hip bone flatter most. 3/4 length can really work.
Jackets are great for hiding lumps and bumps, make sure the fabric is not to stiff, that they are fitted, but not too tight.
You may find that straighter shaped skirts work well for you, falling from your hips and creating a longer line. Trumpet skirts that flare from the knee can also work.
Avoid skirts with gathering at the waist, tiered skirts and stiff a-line skirts
Dresses with a knot just under the bust are a great shape for you.
Alternatively, try a faux wrap dress that doesn't have any seaming or ties around the waist
Darker denims, softer denims with some stretch will work better for you than light and stiff denims.
Avoid too much distressing on denim, keep it simple and clean looking.
Have your pants hemmed as long as possible to create the longest, leanest line.
Trouser shape jeans are great, bootcuts also work.
Want to wear a belt? Check out these tips.
Remember Amber – she is a lovely O shape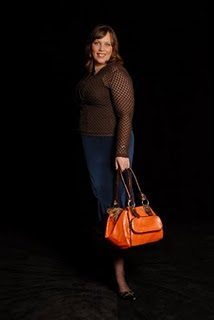 More on dressing your O shape body here and here.