So where you work is really casual, jeans are fine, and people often turn up in sneakers or even the clothes they wash the car in?
What people forget about this dress code is they hear the word "casual" and don't hear "business". Yes people, it's still work and you still need to look respectable and businesslike, even if it is a very casual workplace.
So what to wear?
Here is a capsule with plenty of options, each cardigan can be worn over each top, the jacket and coat also work as a layer over each outfit.
Don't forget to add some accessories – they are your focal points, which you always want, if you're distracting someone to be looking at your necklace, then they're not looking at your thighs are they?
Here with these 12 garments you can easily create over 64 different outfits and looks. Then change up your accessories for even more options.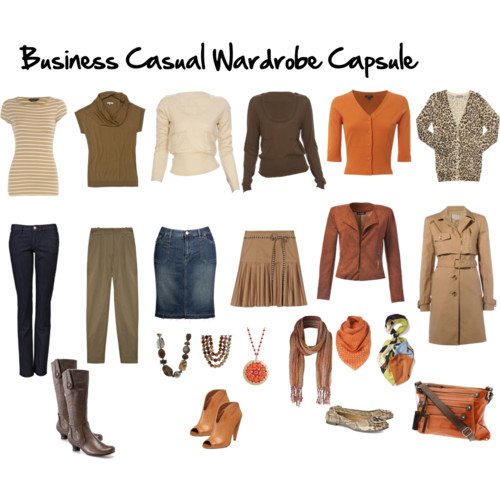 Keep your denim on the darker side and with little distressing.
You can wear more pattern and more relaxed fabrics, from suede to denim, from florals to animal prints.
Shoes should still be in good condition, though unlike with most other dress codes, they don't need to cover the toes.
Stretch knit fabrics are comfortable and appropriate, just make sure that you're not showing too much skin – such as midriff or too much cleavage, it's always better in the workplace to keep your shoulders covered too.
What is appropriate in your business casual workplace?
Further reading: