I've been following the discussion in the 7 Steps to Style group about different types of feminine dressing. I identify with the ethereal dressing with its long lines floaty gossamer-like fabrics. How would you suggest adapting your style to a business casual work setting?
The definition of Ethereal is to be extremely delicate and light in a way that seems not to be of this world. In dressing, the ethereal style essence is angelic, fairy-life, and mystical. Ethereal outfits would have elements of movement; a sense of flow or floating.
Pulling together an outfit that complies with the dress code and honours your personal style is a never-ending battle. With some clever styling, almost any item in your closet can be transformed into a workplace-approved outfit.
Yin and Yang
The traditional workplace is more suited to the classic and dramatic types of feminine with dresses in stiffer fabrics, large belts and jewellery dark colours. Ethereal is defined by lightness in both fabric weight and colour and even with curvy soft patterns.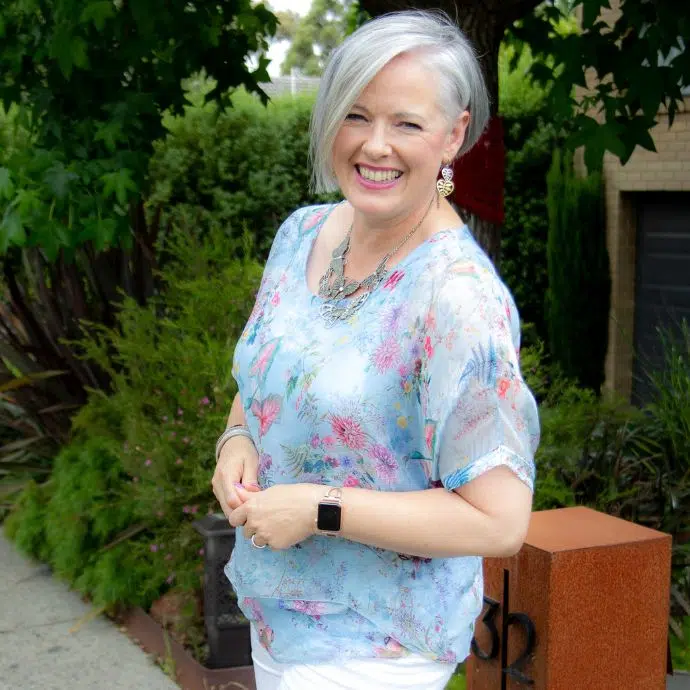 When you think about corporate dress codes, they are all about classic tailoring and it all comes down to how we read and interpret elements of design – Yin and Yang
Yang
Yin

Straight vertical lines
Solid smooth fabrics
Pinstripes
Structured construction
High value contrast

Curved lines
Soft, sheer or fluid fabrics
Sheer fabrics
Draped and fluid construction
Low value contrast
Yin elements are associated with qualities such as flexibility, gentleness and approachability but it's not going to give you that sense of professionalism. Yang elements are associated with qualities such decisiveness, boldness and intensity.
Depending on your role and industry, you need to consider which elements of ethereal design you like that are appropriate for your office environment as the industry you work in impacts the dress codes.
Each ethereal element needs to be paired with an element of classic, conservative, traditional workwear to provide the structured, professional, masculine balance – balancing drape with structure. If you do wear too many ethereal elements, you lose your power and it may affect your promotion prospects.
Balance Drape with Structure
Ethereal garments have a sense of lightness and movement to them. Look for garments with flared construction; flutter sleeves or diagonal lines such as handkerchief hems. Abstracted prints with mystic elements as well as bird and butterfly motifs are Ethereal. Ethereal fabrics can also have a sheer, translucent or iridescent quality.
In order to incorporate these ethereal elements into a workplace-appropriate outfit, you need to balance the drape with structure. Incorporating ethereal blouses is probably the easiest followed by jewellery.
Choose garments in soft neutrals such as mid-grey, taupe, olive, and cream as they make drapey fabrics seem lighter.
Ethereal colours blend together so consider monochromatic outfits or outfits of low contrast.
Lightweight light-colored chiffon blouses in curvy, paisley, or floral patterns paired with a straight skirt or trousers that are a little bit more yang.
Drapey blouse with blazer and palazzo pants in mid-value pants such as camel or mid-grey depending on your colouring.
Alternatively, try a collared shirt under a sweater with a pleated skirt.
A maxi dress with a collared shirt or blazer will give it a more corporate look. Blazers are the magical piece that makes almost anything appropriate for work
Mix a soft floral with a check to get a balance of yin and yang elements in your outfit.
Replace a pencil skirt with a flared or pleated skirt that gives your outfit a sense of movement and femininity.
Statement embroidery to mimic clouds, mist, starlight, or moonbeams on jackets or blouses.
Ankle booties look fantastic with skirts of every length as well as tucked under looser pants. Be sure they are polished to maintain a workplace appropriate look.
Accessories in the form of jewellery, scarves, and hair accessories can never be inappropriate. Try layering delicate necklaces for an organic, whimsical feel.
It's all about striking the right balance! You want to incorporate your personality into what you get to wear to work but also contribute to your co-workers and clients feeling relaxed and respected. Hopefully, these suggestions show you that ethereal pieces easily be styled with more traditional pieces to create elegant outfits that are ready for business.
Discover the Personality Dressing Styles in Detail
If you'd like to know more about Personality Dressing Styles, check out my 7 Steps to Style program where we do a deep dive into understanding all seven of the personality dressing styles and how you can take small elements of each of those personality dressing styles to layer them up to create your own unique personal style. I know from working with thousands of women that defining your personal style is the easiest way to have a wardrobe full of clothes you love to wear, that work for your life and style and that love you back!
Further Reading
What to Wear When You Work in a Corporate Environment But Prefer a Relaxed Dressing Style