Duchesse made me laugh when she said that she wouldn't be adding yellow to her wardrobe as she said she'd look more like a butterball than a buttercup. So for those of us who don't normally wear yellow like Lorrwill and may otherwise shun this sunny trend, here are some options that you may consider, rather than dismissing it completely.
How to Add a Pop of Yellow
Add it with a bag, yellow goes well with blue, orange, pink and red, with olive green, browns and greys and black, if you are otherwise wearing mostly neutrals why not consider a playful yellow bag on the weekend?
As a scarf, not too much enough to add some excitement, it could be mainly yellow, or one of the colours in a pattern.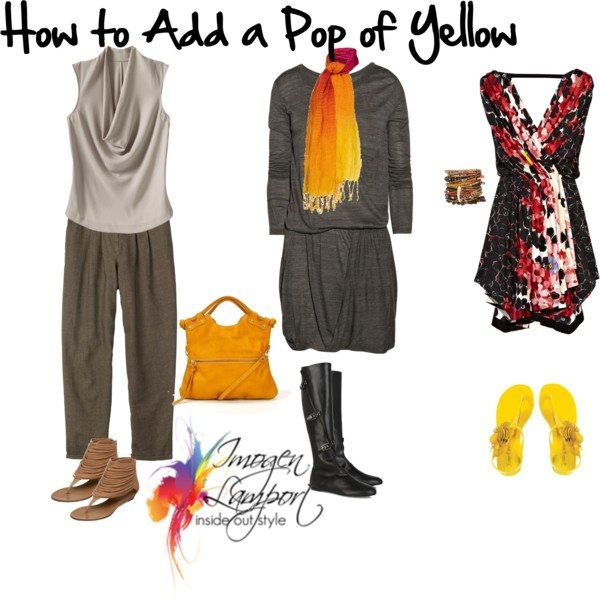 Fun in the sun, sandals or thongs, maybe as a bracelet or some other accessory. Yellow sandals can work really well for you golden haired women.
Even if you have cool colouring and find that wearing a yellow top washes you out, there are ways you can add in a colour and enjoy it, without spending a fortune or making yourself look jaundiced.
Whether it's winter or summer, yellow adds a ray of sunshine and a visual boost to your outfit, makes you happier and boosts your creativity!
Psychology of Color: Yellow
Cheerful yellow the color of the sun, associated with laughter, happiness and good times.
A person surrounded by yellow feels optimistic because the brain actually releases more seratonin (feel good chemical in the brain) when around this color. It is the color associated with optimism but be careful with yellow, when intense, it is the color of flames and studies show babies cry more in (bright) yellow rooms and tempers flare more around that color too.
It has the power to speed up our metabolism and bring out some creative thoughts (legal tablets are yellow for good reason!).
Yellow can be quickly overpowering if over-used, but used sparingly in the just the right place it can be an effective tool in marketing to greater sales. Some shades of yellow are associated with cowardice; but the more golden shades with the promise of better times.
Further reading: