Imogen,
I'm a new follower to your blog and check it almost daily. I love it! It has so much information and for the first time I can relate to the types you suggest. I had a question I posed on a sewing website as I'm considering making a dress using a fabric with a border print. My question was how to use it the best way for your body type.
Me, personally, according to your types am an H, who borders the edge of an 8. I'm short waisted and very large busted. The fabric I am going to use is darker along the border edge but has bigger shapes, while the non-border portion is lighter but has smaller shapes. I don't know whether to use it on the bodice, the waistband or the hem.
Do you have any blog entries that address wearing clothing with border prints? It seemed to be a question others on the sewing website were curious about as well.
Thanks,
Kim
Where to Place Border Prints to Flatter Your Figure
So where to place border prints? It is of course, dependent on your body shape and proportions, where you want focus to be drawn, and what to distract from.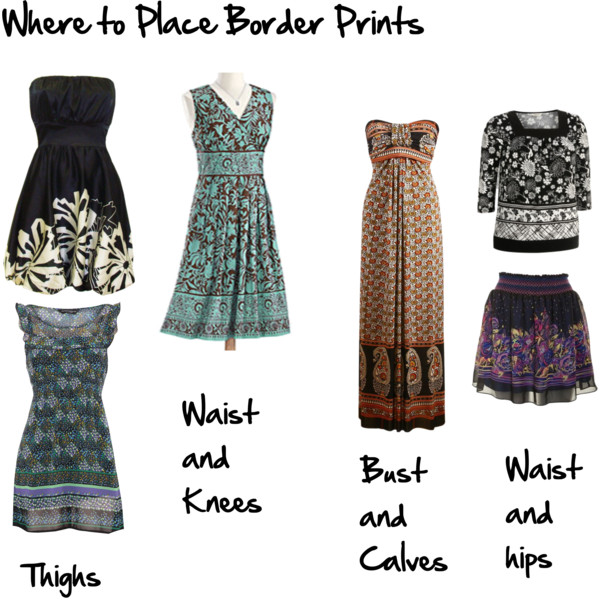 Border prints draw attention, as you can see with these examples. Notice where your gaze rests with each of these examples.
So for Kim, who has a less defined waist, has a large bust and probably doesn't want to draw attention to her bottom either, may choose to put the border print at around the knees.
If she had a smaller bust, then she could put it both around the bust and knees.
If you have an X shape or A shape, put the border on your waist, and possibly your bust to draw attention upwards.
If you are a V shape, why not put a border around your hips, thighs or knee area.
An O shape might find that around the knees is also the best placement.
An H shape would find avoiding the waist (and often hips too) and going for the lower thighs or knees their best option.
Remember that border prints create horizontal lines – which broaden – but can also balance – and also focal points. So put them where you want people to look, and not where you're rather wasn't an area of your body you'd rather camouflage.
Not sure of your body shape? You can do my free body shape calculator quiz and download your body shape bible, or alternatively, if you'd like my professional opinion, I give this as part of my 7 Steps to Style program – which you can find out more about here.
What Guidelines to Follow When Your Body Shape isn't "Standard"
Is that Stripe Slimming or Widening? Discover the Rules of Stripes