One of my lovely commenters asked if I could do a post on age-appropriate dressing, as she's one of the many over 40s who would like some help.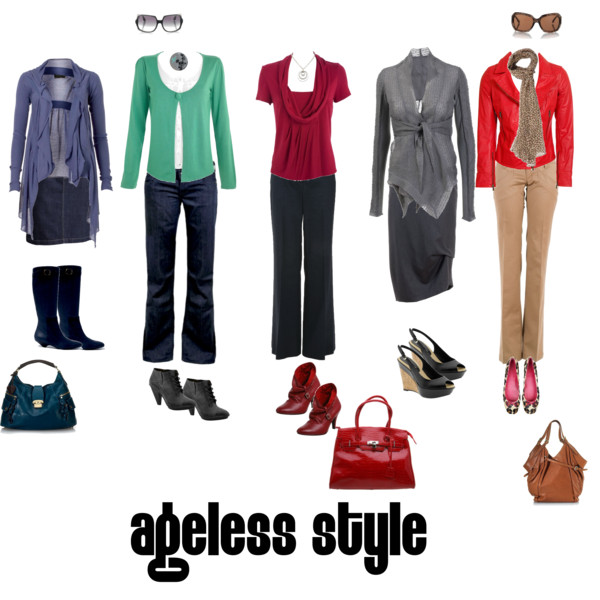 So What is Age Appropriate Dressing?
I think that as we age, rather than being really trendy, and following the latest fashion, no matter how much it might not suit us (as we may attempt to do in our teens and twenties), what we need is to develop our own style – a style that suits us, our lifestyle and our time of life. Ignore the old rules (such as cut your hair short after 40 and stop wearing jeans or leather jackets), and instead develop a style the moves with you as you move through your life and mature.
Developing your own
style recipe
with an understanding of how you want to express your personality through your clothing is the best way of creating your own ageless style.
Dressing like a 20-year-old won't keep you looking young. Dressing in clothes that fit and flatter and that show an understanding of the latest fashions will keep you ageless. Develop a look that has more sophistication as you age, but retains some fun elements if that's your personality.
Develop a style that is you from the inside out – if you're feminine, look for fabrics which drape and have some softness, it doesn't have to be frills and flounces to be feminine.
If you have a casual life, look for fabrics that move easily with your body, that are comfortable but are great quality, so they don't stretch out and look baggy and saggy.
Make sure your clothes fit your body, have them altered to your shape.
Jeans are a great staple in many wardrobes, look for darker denim in plainer washes (rather than ripped or torn or distressed or whiskered), these are dressier and more classic and won't date too quickly. Hem one pair for flats and another for heels. Wear them with a funky ankle boot or a ballet flat, a strappy sandal or a cowboy boot, whatever is your style. If you like comfort, look for ones with some stretch. Throw out or donate jeans that are 7+ years old, they will be out of style and ageing you.
Higher quality fabrics are really important as you age. When you're 20 and your clothes are the latest fashion, they're more disposable, as you get on you want your clothes to last longer – quality over quantity – so look for be best fabrics you can afford, this will make all the difference in the long run with how well they wear, wash up and keep their shape and colour. Think like a French woman, fewer clothes, but of higher quality.
Be aware of the fashion trends and include some new ones regularly in your wardrobe, only the ones that you enjoy, but there is no need to pander to the whim of every latest trend.
A new, modern haircut and a great latest season shoe and handbag will go a long way to making your look modern and timeless, without looking like mutton dressed as lamb.
Many go for comfort over style as they age, you don't have to lose all sense of style to be comfortable, not every attractive shoe is a torture device, try some on and see for yourself.
Remember the classic of 2019 is not the classic of 2009, nor 1989, classic pieces will stay in fashion longer but still won't last forever. Get my top tips on what dates and what becomes timeless here.
Most importantly don't show off too much skin, mini-skirts will make you look like you're trying too hard, too much decolletage will make you look like you're grasping for your youth.
What are your tips for remaining stylish as you age?