To be a V shape, your shoulders need to be wider than your hips, by a good couple of inches. You may or may not have a waist, many V shapes have a shorter waist, if so, then use the tips from the H shape through your waist area – that is – no tucking, detail, pockets, belts, gathering, pleats etc. at the waist, so as not to draw attention to your lack of waist.
If you are one of the lucky ones to have a waist, follow the tips from the
X shape
to highlight it.
What we need to do is create balance and make your hips a little curvier, so you basically are the opposite of the
A shape
, so pretty much don't do everything they do.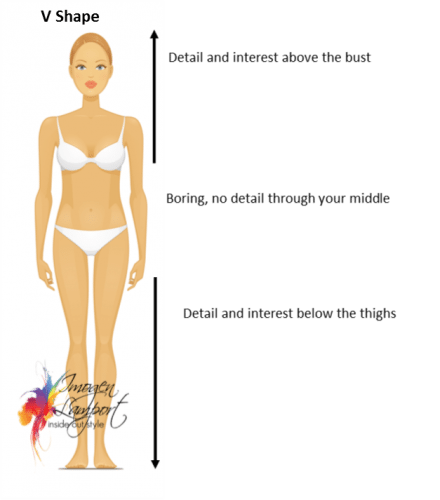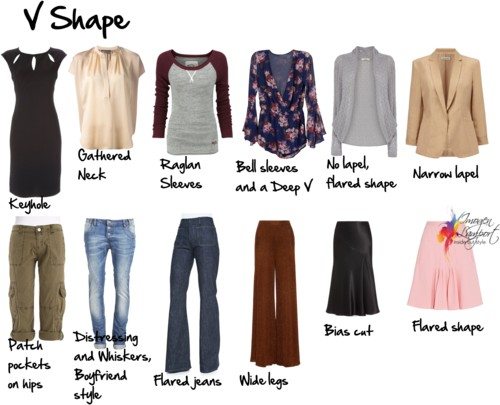 Tops look great with narrower openings such as narrow V necks, crew necks (especially if you have smaller breasts), keyhole necklines, gathered necklines etc.
Look for raglan sleeves, halter necks, dolman sleeves, kimono sleeves, which will visually narrow your shoulders. Flared or wider cuffs will also balance your figure, as will hems that end around your hips.
Narrow lapels or no lapels are best on jackets.
Coats can have patch pockets on the hips to add some curves.
Jeans and trousers can also have pocket detail, so cargo pants will work for you too. Jeans can be straight, skinny or a flare will balance your shoulders.
Skirts need to be flared or pleated from a dropped waist if you want to create a more feminine shape, bias cut also work really well for you if you don't have saddlebags, and a tapered pencil skirt is another option if teamed with a shoulder diminishing top. Patterned skirts will also draw attention and balance your figure. Wear the darker colour from the skirt in your top.
Halterneck dresses are fabulous on you. Avoid waist definition unless you have a defined waist. Go for empire lines (just below the bust) as this will be your narrowest point. Detail and pattern on the bottom of the dress will also help to create more curve.