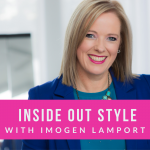 In this Episode
0.011 How to create a wardrobe between classic and casual that doesn't feel too formal as I live in a relaxed location
4.04 How do you wear a hat for warmth or shade when hats just don't suit you?
7.34 I don't always want to wear dark colours – how to wear lighter colours when your colouring is dark (A Shape body)?
Classic and Casual
8 Ways to Look Stylish in a Casual Environment when Jeans are Not Your Thing
How to Be Contemporary and Casual in Classic Clothing Styles
Flattering Hats
How Hats and Headwear Communicate and the Personality of Different Styles
Ways to Wear Lighter Colours When You're Dark Ideal Value
If You'd Like to Define Your Style and Discover Your Colours
If you're sick of wasting money on clothes that don't work and you know there is a better way, then join my 7 Steps to Style program and get the right information for you and your style.
Subscribe to my Podcast
You can now get these videos as podcasts subscribe and never miss an episode
Send me Your Questions
Please email me your questions to be included in my Q&A Lucky Dip!