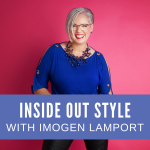 In This Episode
0.08 Can a person have a low value contrast and still be clear in their colouring?
3.05 How to figure out your face shape -mine is longer with a curved jaw and a square forehead?
8.27 How do you dress a body that is an H from the front, an apple from the side and a pear from the back?

Intensity of Colouring
Figuring Out Face Shape
Importance of Placement of Facial Features For Determining Face Shape
Body Shape, Lateral Body Shape and Body Variations
What Guidelines to Follow When Your Body Shape isn't "Standard"
Subscribe to my Podcast
You can now get these videos as podcasts subscribe and never miss an episode
Send Me Your Colour and Style Questions
Please do email me your colour and style questions to answer on upcoming videos!