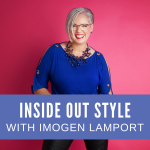 In this Episode
Can I use hair accessories instead of earrings or necklaces to create my ideal value and colour contrasts?
I've got a large wardrobe of creative/eclectic clothes that are still in good condition – should I be purging them?
What seasonal pieces should I be looking for to give my look a lift?
I have medium value contrast but my hair and skin only have a medium- low value contrast -if I just wear that I feel bland – I feel like I need darker clothes – please can you help?
Colour and Value Contrast with Accessories
5 Colour Concept Essentials You Need to Understand To Create Harmonious Outfits
Purging My Wardrobe
Before You Throw It All Out for a Minimalist Wardrobe Read This
Why the Wardrobes of the Most Stylish Women are Built Over Time
Medium Value Contrast
What to Wear: Prints and Patterns, Getting the Value and Contrast Right
The Value of Value Contrast and Using it to Create Stunning Outfits
Subscribe to my Podcast
You can now get these videos as podcasts subscribe and never miss an episode
Send Me Your Colour and Style Questions
Please do email me your colour and style questions to answer on upcoming videos!