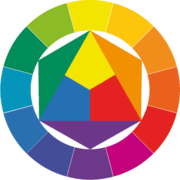 Have you ever thought about colour contrast when dressing? What is colour contrast you may ask and why does it even matter?
Colour contrast relates to your own natural colouring and creating harmony and balance with you.
For example, if you are monochromatic in colouring – so say have brown eyes and brown hair, you will find that you look great in similar colours (for example see the outfit on the left). You may even be attracted to wearing a few similar neutrals together and prefer them over wearing colour.
If you are more analogous in your colour – so say have auburn hair and brown eyes, you will look good in a selection of colours that are close to each other on the colour wheel, greens with blues, violets with reds, or yellows and oranges together. (middle picture)
If you are complementary in your colouring – say red hair and green eyes, or burgundy hair and blue eyes – consider wearing complementary colours together – you can more successfully pull off wearing blue and orange or red together, purple and yellow, or combinations of colours others may run away from as they're too daring.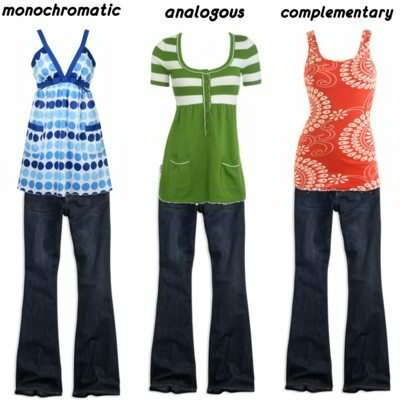 On of my issues with Trinny and Susannah – especially in their 2nd book What to Wear book, was that they were always advising people to wear monochromatic colours and avoid black and a colour – because in their experience of dressing themselves it didn't work. When I look at their colouring, I see fairly monochromatic to slightly analogous colouring, in a low contrast (will explain the value contrast in my next post), so this advice worked for them, but was terrible on people who have colouring like I do.
What are your favourite colour combinations? What are your eye and hair colours?